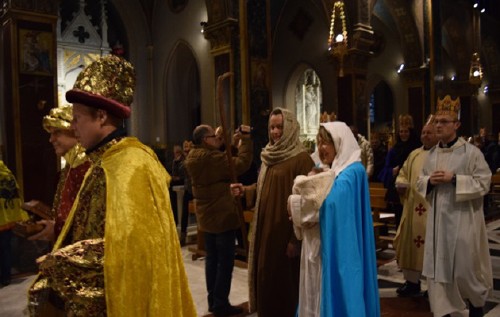 Rome: With joy, and singing Polish Christmas carols, on January 6, 2015 a procession of the Three Kings entered the Shrine of Our Lady of Perpetual Help at Via Merulana, Rome. It is a well-known Polish tradition to organize such procession as well as street Christmas plays, traditions that have recently been renewed and have become very popular again in engaging whole families in the public profession of their faith (this year in Poland alone around one million people took part in it).
The "Roman" procession included a married couple with a newborn child dressed as the Holy Family, a group of angels complete with wings, and shepherds in traditional Polish costume from the region of the Tatra Mountains. There were three kings, of course, and a king Herod as well, all of whom served at the Holy Mass. 
At the beginning all participants listened carefully to the Gospel that told of what had happened in Bethlehem. While Fr. Edmund Kowalski CSsR was reading it, the actors played out the scene, showing how the three kings had brought their gifts, how Mary hugged tightly her Child with St. Joseph looking on. The Parish choir at this moment were transformed into a choir of angels.
The Italian Christmas tradition connected to the Epiphany is a visit of Befana – an older lady who brings gifts for children. She also came to visit for this celebration and Fr. Krzysztof Mamala CSsR, who is responsible for the pastoral care of Polish nationals at the Shrine, helped with the distribution of the gifts.
This joyful event was followed by the Eucharist and after which all were invited to a reception. The crowns worn by people during the celebration remain in their homes after the feast to remind them of the celebration and the Gospel message of that day.
Paweł Rytel – Andrianik