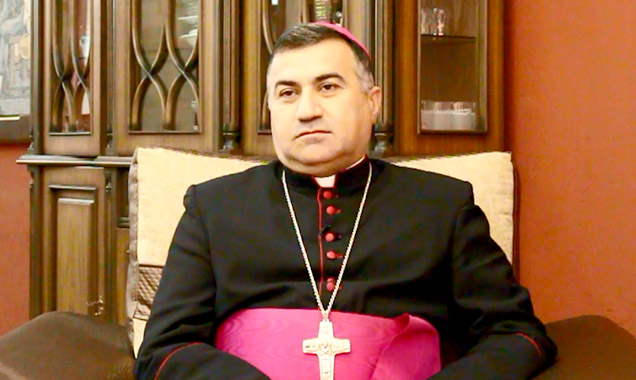 The British Government must send troops into Iraq or risk the elimination of its Christian population, an Iraqi archbishop said yesterday.
Archbishop Bashar Warda, whose diocese in Erbil is at the epicentre of a refugee crisis as tens of thousands of Christians flee persecution by Islamic State, told members of the House of Lords that the West's military intervention thus far was not enough.
He begged politicians to call on Parliament to send troops into Iraq. The UK currently forms a small part of the military campaign against IS and has conducted air strikes and supplied weapons.
"It is very hard for me as a Catholic bishop to say we have to advocate military actions, but we have to go for that. There is no other option. Attacks happening now have stopped some of [IS'] activities but it is not enough."
He explained that the Iraqi army was not qualified to deal with IS, which he claimed was receiving help from individuals within Saudi Arabia and Turkey. He recalled seeing planes carrying weapons to the terrorist group in recent weeks.
"The troops that are there are not really ready. To me, troops on the ground is what everyone wants. Military action is needed to be prepared in a way that will be different to just air attack."
The archbishop indicated that the West shared some responsibility for the worsening situation in the Middle East as young people travelled to fight for the jihadis.
"We are seeing that more and more young people are trying to fight with Daesh [the Arabic name for IS], so we all have responsibility about this – politicians, everyone."
The archbishop, speaking yesterday at an event organised by the charity Aid to the Church in Need, is in the UK for a week to raise awareness of the suffering of Christians in the country. He is due to address the Church of England's General Synod on Tuesday and will spend Wednesday with the Cardinal-Archbishop of Westminster, Vincent Nichols and will preach at Mass in the Cathedral in the evening.
Read Full Article:
www.thetablet.co.uk/news/1724/0/iraqi-archbishop-begs-britain-to-send-troops-into-iraq-to-protect-dwindling-christian-population