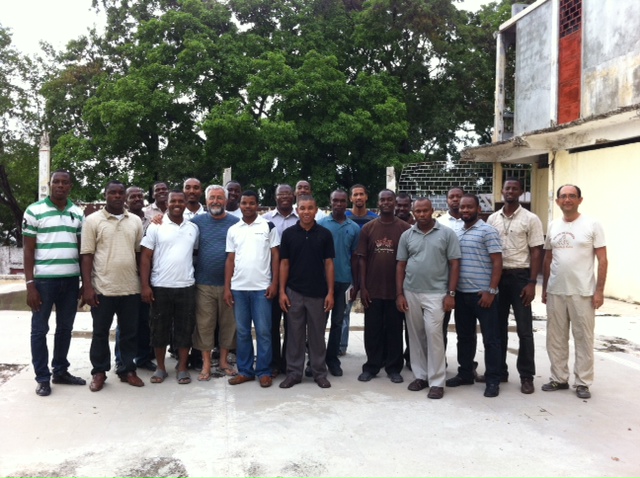 The last week of June and the first week of July have been very busy forAcoger y Compartir (AyC = Welcome and Share) in Haiti. Recently eighteen Haitian Redemptorist students have taken part in five educational meetings held in the community of St. Gerard in Port-au-Prince. Of the eighteen participants, six of them are preparing to profess perpetual vows in the Congregation this August and will be ordained deacons. These young people are: Jean-Marie Bontemps, Thierry Raphaël, Mervil Memnon, Junior Mondelice, Jean-Carlo François and Jean-Jacques Nicolas. Deacon Renold Antoine, who will be ordained a priest in August, also took part.
Fr. Alberto de Mingo, who conducted the formation meetings, developed the theme of redemption, based on his book Símbolos de Salvación(Symbols of Salvation). In all these formation gatherings the regional superior, Fr. Kénol P. Chéry, was present.
At the same time, a Web site for the Haitian Region has been constructed in collaboration with the Welcome and Share Association (Asociación Acoger y Compartir). The address of this new site iswww.redemptoristeshaiti.org. It is already up and running for anyone who would like to visit it.
At the same time Fr. José Miguel de Haro and the person responsible for the AyC in Haiti, Patricia Giraldo, have been overseeing the construction of the new Saint Gerard School, which is progressing very well and will be inaugurated in September. All the necessary furniture for the twelve classrooms, the administrative offices and the professors' lounge, is being assembled at a workshop in Port-au-Prince.
The first days of July were used to complete and inaugurate the construction of a two-story, ecological toilet block in the Pandiassou-Hinche School run by the Redemptorists. With these ecological latrines, the project that the AyC has developed in recent years, in this area hit hard by cholera, is completed. Previously a water-treatment plant and three drinking fountains distributed throughout the school's patios, which can run by solar power or generator, had been installed.
So also the last details, before beginning the construction of a shelter for orphaned children who are still living in makeshift huts in Port-au-Prince, have been finalized. This project is being carried out in collaboration with other organizations and will begin in mid-July.
We desire a truly theological life for the newly professed and attitudes that enable the development of the Redemptorist vocation, integrating communion with God and service to a people who hope to not be disappointed.
José Miguel de Haro
(Translation: Fr. Joseph P. Dorcey, CSsR)