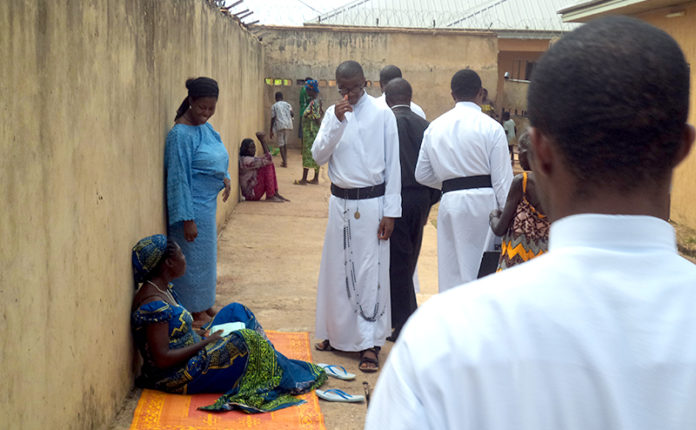 When I was hungry, thirsty, naked, and in need, you attended me (cf. Mt.25:35-40)!
Armed with food, drinks, clothes, but above all, that sweet scent-transforming ingredient of love, the Redemptorist fathers (BonifaceNnaike, C.Ss.R and Paul Ikeh C.Ss.R) and the brothers of the Materdomini Novitiate Community of the Vice Province of Nigeria visited the mental institution at Emene, Enugu, South Eastern part of Nigeria. On Easter Monday, excited to go meet Christ in Galilee, we, together with some members of the worshipping community, proceeded to share the Easter story of love, care, and sacrifice. Apart from the distribution of material items, the patients were treated to good music to which they danced and to social interaction as far as it could meaningfully go.
It was an enriching experience for all, especially the brothers knowing that they could provide this much from the collective sacrifices and abstinence of the community during the entire Lenten period. The brothers in sharing their experiences agreed that there is much strength and joy in community and unity. Together, we can achieve much. Together, we are potent positive agents of transformation, of redemption.
Also, the visit to the patients provided room for reflection on the condition of the human person: Everyone deserves to be respected regardless of mental strength or awareness; no one is to be stigmatized, but loved regardless. The more the handicap, the more the love they deserve.
We concluded our visit with the patients and staff with words of exaltation, songs, prayer, and group photographs. It was a rewarding experience and the brothers and some members of the worshipping community are looking forward excitedly to yet another of such collective life touching and enriching experiences.
Indeed, we did encounter Christ is Galilee. Indeed, we did feed, clothe and made Christ feel loved, appreciated, and respected. Indeed, the patients and staff did feel the redemptive and liberative touch of the risen Christ of Love. Indeed, with Christ the Redeemer is copious redemption!
By Fr. Paul Ikeh, CSsR (Postulancy Director)