Fr Seamus Enright CSsR pictured in Sarnelli House in north eastern Thailand
Limerick priest's plea for Thai sex trade victims
JP MCMANUS HELPS SUPPORT ORPHANAGE FOR BABIES WITH HIV
Billionaire businessman JP McManus has backed a religious order in providing financial support to an orphanage in Thailand, which is home to nearly 200 babies and child victims of the sex trade who have HIV.
After learning of the plight of children, whose mothers predominantly work in the sex trade, Mr McManus answered the plea from the Redemptorist Order in Limerick within a matter of days.
Fr Seamus Enright, rector of the Redemptorists at Mount St Alphonsus in the city, who has just returned from Sarnelli House, in the north east of Thailand, described the experience as "heartbreaking".
However, he said there are some "positive stories of hope emerging" emerging from a background of abandonment and sexual abuse.
"The tragedy of this is that it's a consequence of western sex tourism. Many women from poorer areas in northern Thailand and Laos travel to Bangkok and major centres, and have fallen into prostitution for a time to bring home money to their families, got married, had children and didn't know they were infected.
"While are there many children adopted from Thailand, sadly there are none adopted from Sarnelli House," Fr Enright told the Limerick Leader.
The orphanage began in 1998 under Fr Mike O'Shea, a native of the Wisconsin in the United States, whose grandparents are from Dingle and who is a relative of Paidi O Se, the late legendary Kerry football manager.
"When I saw the little girl who was left there [in the orphanage] at just 17 days old, you have to think what must life be like for her mother? She wanted to keep the baby, but it was believed that her partner, a pimp, wouldn't allow her to do so," said Fr Enright.
Some €16,000 was sent by the Redemptorists in Limerick last year, and in all they have helped to raised over €40,000 to date.
That sum includes a cheque for €8,000 from Mr McManus's Charitable Foundation – which will cover nearly half of the centre's annual running costs.
Mr McManus's foundation has now donated more than €60,731,301 to charitable causes in Ireland and around the world over the past 15 years.
In all, he has given in excess of €225m to charities through that fund, scholarships, and successive Pro-Am golf tournaments on the grounds of the five-star Adare Manor Hotel and Golf Resort, which he bought for a reported €30m.
"I don't know JP McManus, though we were in CBS Sexton Street [school together] many years ago," added Fr Enright. "I wrote to him directly, and within a few days the cheque came back from the foundation. He's a very generous man."
Mr McManus specifically provided funding for the centre's efforts to become self-sufficient in terms of food production and in harnessing water supplies.
The orphanage, which is home to children right up to their late teenage years, is now run by four Redemptorist priests, supporting employment for 70 local people.
Among the centres under Sarnelli is the House of Hope – known locally as Pi Si Tong – home to some 20 babies and toddlers, many of whom are brought directly to Sarnelli within hours of being born at Nongkhai Hospital.
Sarnelli's services are spread across three villages and seven different centres. Fr Enright said they are continually seeking volunteers and financial support.
It was set up initially for adults who had been banished from their villages and left struggling to survive, having been made pariahs in their communities as a result of contracting HIV/Aids.
Some of the children, Fr O'Shea has explained, were born in prison, while others were found wandering the streets, going from house to house begging for food.
One was found abandoned along the roadside, another found in a garbage dump, and several young girls were rescued from a life of prostitution.
While he said they were initially "confused, frightened and withdrawn" when they were rescued, "with love and attention they soon settled into their new houses."
The Redemptorists' mass collection at Mount St Alphonsus in Limerick on Holy Thursday, April 13, will be in aid of Sarnelli House.
(by Anne Sheridan – Limerick Leader, http://www.limerickleader.ie)
SARNELLI HOUSE ORPHANAGE
Sarnelli House is an orphanage for children with HIV and AIDS located in North-East Thailand. It is home to 145 boys and girls of all ages. Many of the children are AIDS orphans. Nearly half of the children are living with HIV or AIDS themselves.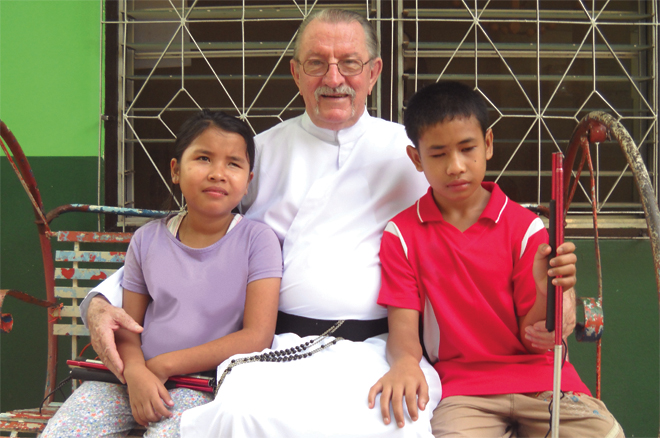 Sarnelli House first opened its doors in the year 2000. Fr. Mike Shea, a kind-hearted Redemptorist priest, made a promise to a Thai woman who was dying of AIDS that he would care for her babies when she passed away.
Since then, Fr. Mike Shea, whose grandparents hail from Ventry, Co. Kerry, has overseen the loving care of over 250 abandoned and forgotten children. However, at 76, the years are taking their toll…
The 145 children currently in his care need to be housed, fed and educated. Father Mike needs reassurance that we will look after his children when he is no longer with us.
Read more: http://sarnelliorphanage.org/