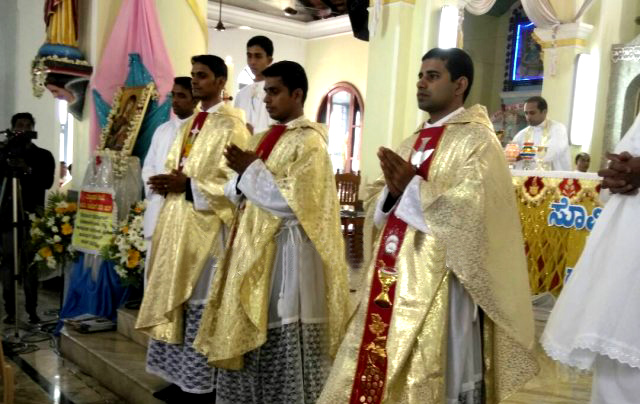 Mangaluru, May 8: Dr Aloysius Paul D'Souza, the bishop of Mangaluru diocese ordained three deacons as Redemptorist priests at St Francis Xavier Church, Ferar on Monday, May 8.
The ordained priests are: Fr Ritesh Rosario, son of Baptist and Sophia of St Francis Xavier Church, Ferar, Fr Rohan Dias, son of Dominic and late Nathalia Dias of Immaculate Heart of Mary Church, Nakre, and Fr Ravi Richard Fernandes, son of Raphael and Jacintha Fernandes of Infant Jesus Church, Vamadapadav.
These Redemptorists belong to the vice-province of Majella, Mumbai.
Monsignor Denis Moras Prabhu, Fr Pius Fidelis Pinto, parish priest of Ferar, Fr Eugene D'Silva and family members of the newly ordained priests were present among others.
The Redemptorists have a minor seminary in Alangar Moodbidri and a parish at Saverapura near Beluvai. Their main work is to preach the gospel through missions and retreats to all people.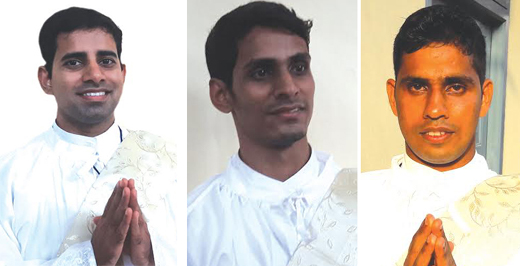 Redemptorist Congregation
Today more than 5000 Redemptorist priests are carrying out the mission of Jesus in  82 countries. Inspired by their founder St. Alphonsus, they preach the good news to the poor and the most abandoned.
In India, the Redemptorists have 2 provinces (Bengaluru and Liguori, Kerala) and a vice-province. The vice-province of Majella, covers the coastal areas of Mumbai, Goa, Gujarat and Mangaluru.
At Alangar, Moodbidri they have their community called 'Nithyadar Nivas.' This community has 4 priests and Fr. Eugene D'Silva is the superior of this community.
So far 10 Mangalureans have become Redemptorist priests which include the three ordained today. They studied at different seminaries in Goa, Mumbai and Bengaluru.
(from: http://www.daijiworld.com)