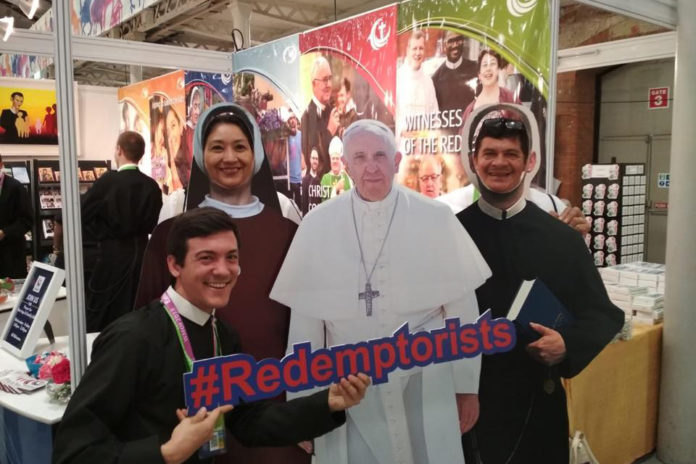 (Dublin, Ireland) The Ninth World Meeting of Families took place from 22nd to 26th of August in Dublin, Ireland. The Irish Redemptorists embraced this opportunity to give greater focus on marriage and family life in the months leading up to the main event, with various initiatives carried out at the local community level.
During the main event itself which ran from 22nd to 26th August, the Redemptorists had a large visual presence at the congress promoting all the aspects of the Redemptorist life and ministry. We gave particular focus to St. Gerard Majella with a standalone prayer space. This provided an opportunity for many people to chat, pray, write petitions and receive a blessing with the relic of St Gerard. This initiative was a great success and one appreciated by the many hundreds of people who visited our stand.
One of the highlights of the week was being joined by 10 Redemptorists from the Conference of Europe. We extended an invitation to professed and newly ordained Redemptorists to join us for this world celebration of marriage and family life.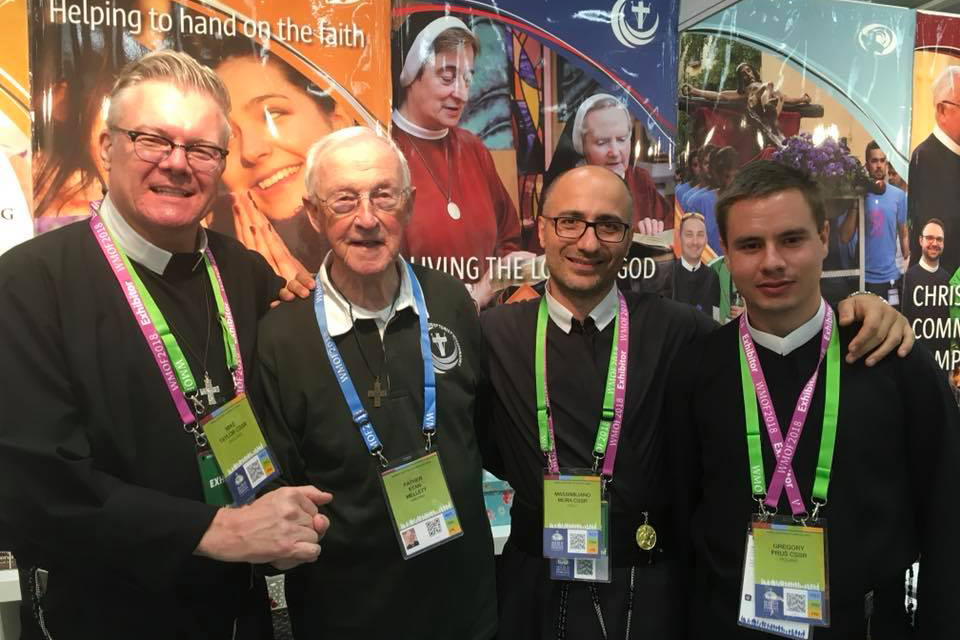 The following Redemptorists joined us: Br. Stanislav Marcin CSsR (Bratislava), Br. Massimiliano Mura CSsR (Rome), Br. Dariusz Dudek CSsR & Br. Grzegorz Pruś CSsR (Warsaw) Br. Mike Taylor CSsR, Fr. Peter Morris CSsR & Fr. Richard Reid CSsR (London), Br. Carlos Diego Gutiérrez CSsR (Madrid), Br. Vasyl Chavaha CSsR and Fr. Taras Kchik CSsR. They joined a team of Irish Redemptorists, Redemptoristines, Youth Ministers, and Co-Workers a true gathering of the Redemptorist family. All brought a great energy and joyous presence to the event that is beyond calculation. The team was a true witness of a vibrant, loving and joyful presence of the Redeemer. We were truly blessed to be represented by them.
More than 400 people including the Redemptorists, Co-Workers, and friends gathered in the Church of The Assumption, Ballyfermot Dublin from the eight Redemptorist communities in Ireland for a celebration of Eucharist on Friday 24th August. The theme of the day was Redemptorist Family "Family of Families". This was followed by refreshments and social time. It was a wonderful occasion for all who attended.
The arrival of Pope Francis brought great excitement to the city and the country. We got the opportunity to attend the Festival of Families concert and the Papal Mass which topped of a wonderful week together. Our visiting Redemptorists have returned home to their respective communities and countries leaving a lasting positive effect or all they encountered. With men as passionate and grounded in faith as our visitors the Redemptorists in Europe are in very safe hands.
Claire Carmichael