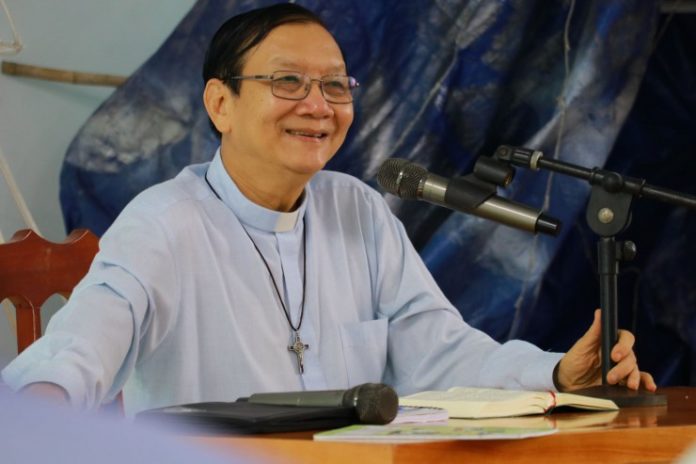 (Hanoi, Vietnam) On Saturday, March 20 and Sunday, March 21, at Redemptorist Monastery Thai Binh, more than 70 members of Redemptorist Lay Missionaries Mien-Bac (Mien-Bac means the northern region) attended the Lenten retreat led by Father Joseph Tran Huu Hoan, the chaplain of Redemptorist Lay Missionaries Mien-Bac. The participants came from Hanoi City, Thai-Binh Province, and Nghe-An Province.
This was the first retreat in a two-year formation program for lay people who have the intention to commit themselves to the Redemptorist lay missionary vocation. The preacher of this retreat was Father Joseph Nguyen Ngoc Bich, the Provincial of the Redemptorist Province of Vietnam.
During the retreat, the participants listened to the Word of God, shared and discussed the missionary mission, celebrated the hour of recollection and confession, attended Mass, prayed privately and attended Eucharist adoration.
In order to help the members gain more experience about the spiritual life and especially to ignite the fire of apostolic zeal, in the spirit of Lent, the sermons of the Provincial focused on the theme: Redemptorist Lay Missionaries – apostles of conversion.
Through the Provincial's profound sharings, illustrated by his pastoral experiences, the Redemptorist lay missionaries were truly touched and learned many things about the faith and about the mission.
Through the intercession of Our Mother of Perpetual Help, may Jesus Christ keep the flame of enthusiasm, zeal in missionary work among the lay members of the Redemptorist Family while empowering them to overcome difficulties and challenges.