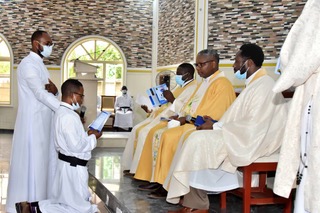 Uchenna Eze and Collins Nwabuisi had known each other before they joined the Redemptorist Congregation. Both of them longed to be Redemptorists after graduation from the university, where Collins was a Social works major, and Uchenna studied Electrical Engineering. Both of them attended the same live-in experience. Of the six of them admitted to the Redemptorists, only two have persevered in the Congregation. Saturday 4th October 2021 will always be a day to remember for both of them as they made their final vows at St. Stephen's Church, Agboju, Lagos, Nigeria.
That day will always be memorable also for the Vice-Province, the family, and the good people of St. Stephen Agboju. In his homily, Fr. Godfrey Udeh, CSsR, exhorted the brothers to embrace the gaze of Christ, who looks upon them with love and the promise of his presence all through their journey as Redemptorists. He drew their attention to the harsh realities of modern society but encouraged them to remain courageous and steadfast, trusting in the comforting presence of the Redeemer.
The parishioners of St. Stephen were witnessing the hosting of the final vows ceremony of a Redemptorist for the first time. Whilst delivering his welcome address Mr. Ikechukwu Francis Ogwu, the Vice Chairman of the Parish Pastoral Council, thanked the Redemptorists for gracing their parish with this solemn celebration.
The Vice Provincial, Fr. Joterio Aghoja, had pastored St. Stephen during his time as Parish Priest of Archangels church, of which St. Stephen was still an outstation. The celebration was an opportunity for him to reconnect with the people. There were cheers and sharing of inside jokes with the parishioners whilst he greeted them before the end of the celebration.
It was an overall beautiful and colourful celebration that featured lots of dance presentations by the youth and the Catholic Women Organization, and the choir. The Redemptorists present forming a ring around the newly professed brothers danced with joy in thanksgiving for them. Also present in good numbers were our lay associates from different parishes in Lagos.
As they continue on their journey as friends and brothers, we pray for the grace of fruitful service and final perseverance for Uchenna and Collins in the Redemptorist way of life.
Fr. Godwin Abbah, CSsR