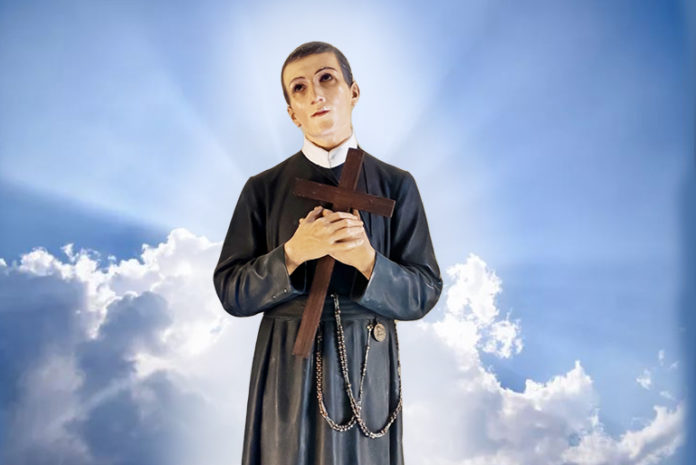 We, the Redemptorist family, celebrate the Feast of St. Gerard Majella, C.Ss.R on the 16th of October. St. Gerard was a Redemptorist Brother and a companion of St. Alphonsus Liguori.
He was born in 1726 in Muro Lucano, Italy. He grew up in poverty and developed a great respect for the poor.
St. Gerard was sickly for most of his short life. As a result, when he developed the desire to join a religious community, he was turned down until he approached the Redemptorists. Even then, the Redemptorist who referred him on to the formation house sent with him a note, presenting him as "a useless lay brother." He was to prove to be anything but! As a Redemptorist, he remained close to the poor. His ability to be empathetic and to read souls helped him to counsel religious women. He was sought out as a spiritual companion and guide.
He also had mystical abilities, such as the ability to levitate and bi-locate. Many miracles are associated with St. Gerard: 1) restoring a boy's life after he fell from a high cliff; 2) blessing a poor farmer's crops to free it from mice; 3) blessing a poor family's supply of wheat that miraculously lasted over a year; and 4) multiplying bread for the poor, as Jesus did. Additionally, St. Gerard's prayers aided women in labour. There are many stories about how he came to be the patron of difficult pregnancies, and of those who are having difficulty becoming pregnant. Perhaps the most likely is this: one day while walking about, Gerard unknowingly dropped his handkerchief. The young girl witnessed it and brought it to Gerard's attention. As she attempted to return the handkerchief to him, he told her to keep it, saying she might need it one day.
Years after St. Gerard's death, the young girl, now an adult, had married and was bearing a child. During labour, she was on the verge of losing her baby. She remembered her encounter with St. Gerard and quickly requested that St. Gerard's handkerchief be brought to her. Almost immediately upon receiving it, the pain left her and she gave birth to a healthy child.
Gerard was known and loved for his devotion to the Redemptorist mission of proclaiming abundant redemption to the most abandoned, for his generosity, simplicity of life, and his joy. St. Gerard died of tuberculosis on October 16, 1755. He was only 29 years old. He was canonized on December 11, 1904, by Pope Pius X. His shrine is at Materdomini, Italy.
Prayer to St. Gerard
Saint Gerard, during your life you extended your help to the unfortunate and poor around you. Help me in my present need [your intention]. Give me the insight to recognize the presence of Jesus in the sufferings and troubles of others. Let not my urgent need for help cause me to think only of myself. Following your example, uniting my prayers and sufferings with Jesus on the cross, may I be transformed into a person of love and compassion. Saint Gerard, pray for me. Amen.
For Parenthood
Good Saint Gerard, powerful intercessor and wonder-worker, we call on you and seek your aid. You know that we have not been blessed with a child and how much we desire this gift. Please present our pleas to God, from whom all parenthood proceeds, and beseech the Creator of Life to bless us with a child whom we may raise as an heir of heaven. Amen.