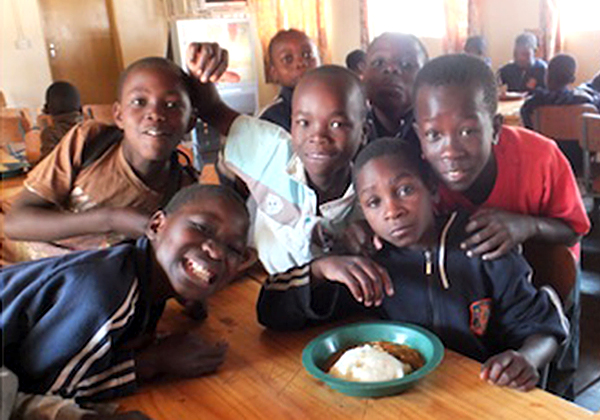 The name Mavambo means Genesis, standing for a new start. Brother Benjamin CSsR is the director of the Mavambo Trust, originally founded to educate children 8-11 who have missed out on school, usually because they have no birth certificate and who cannot, therefore, register at government schools, or because they are too poor to pay the fees. The kids are often single or double orphans because of the HIV/AIDS crisis and are raised by their grandparents.
Brother Benjamin, C.Ss.R.
About 70% of them are accepted into the regular schools after only one year with the Trust, which is a measure of the quality of the teaching. Bro Benji has the help of two sisters, Kathi and Mike; Danny is his assistant director; Lamech is in charge of social services and outreach, and there are over a hundred volunteers. The trust also feeds over 300 children a day during the school terms.
Mavambo Trust is a not-for-profit organization established in 2001 that provides educational assistance, health, nutrition and psychosocial support to orphans, vulnerable children and young people in the Mabvuku, Tafara and Goromonzi districts of Zimbabwe. The Project name is Foundational Literacy for Life. The relationship between Mavambo Trust and Redemptorists is that The Redemptorists co-founded Mavambo. The relationship has been interactive and proactive. This is due to the fact that the two organizations share the common vision of working with the vulnerable so that they reach their full potential.
Vision
A healthy, self-sustaining community throughout Zimbabwe where all children can access services as a way to sustain themselves and to give back to the community. The Redemptorists would say: Making a difference' in the lives of those we serve.
Mission
Empowering children affected by HIV and AIDS to develop their maximum potential by enabling them to be socially adjusted, self-sustaining, and healthy responsible citizens. The Redemptorists say, we empower and raise the level of dignity of the poor through renewal and affirmation of the marginalized.