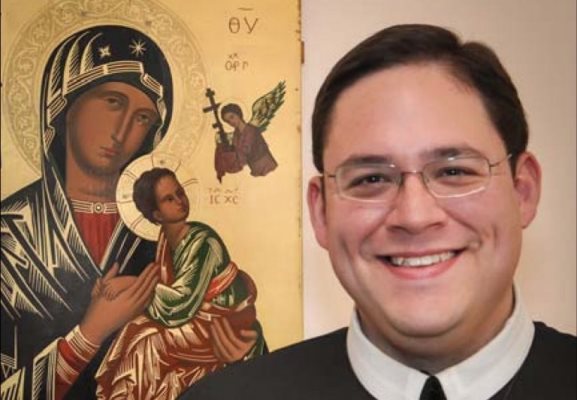 Feast days of Redemptorist saints and Blesseds call for special celebrations in every community, but none more so than Seelos House in Chicago. Student formation focuses on these great Redemptorists, so the community wanted to find a way to be more intentional about how our saints and Blesseds are remembered in the liturgy.
"Every week we emphasize a saint or Blessed," explained Kevin Zubel, who joined Redemptorist formation in 2009. "Beyond reading about them and their writings, we discuss what they teach us about being a Redemptorist, and what that means to us and our own ministry today."
Having been interested in music his entire life – he played trumpet and piano, and sang in the parish choir for nine years – Kevin was asked to write a verse for the feast day of Blessed Francis X. Seelos. "I read and reflected on various short biographies to capture his core message and what he brought to ministry, and tried to convey that in a verse. It turned into something very prayerful," he said.
Kevin has written special verses for Blessed Seelos, St. Gerard
Majella and St. Clement Hofbauer to insert into "By All Your Saints
Still Striving." Sung to the tune of "All Glory, Laud, and Honor," the song is used as the opening hymn of feast day liturgies.
Kevin jokes that he was "working up" to St. Alphonsus, but now that the feast day is just a few months away, he encourages his confreres to prepare a verse. "We have a pattern now, and anyone is welcome to fill in music for our saints and Blesseds," he said. "I guarantee it will be a very fruitful experience."
Prudently declining to name a favorite Redemptorist saint, Kevin does admit that St. John Neumann challenges him most in terms of his own ministry.
"Neumann worked with immigrants, and was incredibly innovative, creative and collaborative. He was very humble, but at the same time very good at addressing the whole needs of the people over and above building churches and celebrating liturgies," he said. "Neumann is very much on point for what we are preparing for and trying to live, even today."
All Your Saints Still Striving
Verses for Redemptorist Saints and Blesseds written by Kevin Zubel
Main Verses
By all your saints still striving
For all your saints at rest,
Your holy Name, O Jesus
For evermore be blessed.
You rose, our King victorious,
That they might wear the crown
And ever shine in splendor
Reflected from your throne
Second Verse – See Feast Day
Then let us praise the Father
And worship God the Son
And sing to God the Spirit,
Eternal Three in One,
Till all the ransomed number
Who stand before the throne,
Ascribe all pow'r and glory
And praise to God alone.
St. Clement Hofbauer March 15
We praise you, Lord, for Clement
Whose missionary flame
Burned through the fog of hatred
To spread God's holy name
Grant us, dear Lord, the vision
And trust in your true grace
To persevere through storms of trial
Your gospel to embrace
Blessed Francis Xavier Seelos October 5
We praise you, Lord, for Francis
Our humble, cheerful friend
Who served the sick and dying
And shared love to the end.
Grant us, dear Lord, the courage
To serve in charity
And give our lives for those in need
With generosity.
St. Gerard Majella October 16
For Gerard, Lord, we thank you
Dear brother of the poor
Whose heart for the abandoned
Helped broken souls to soar
May we embrace Christ's mission
And never fear the cost
Of sharing with deep joy and hope
Your great love with the lost.