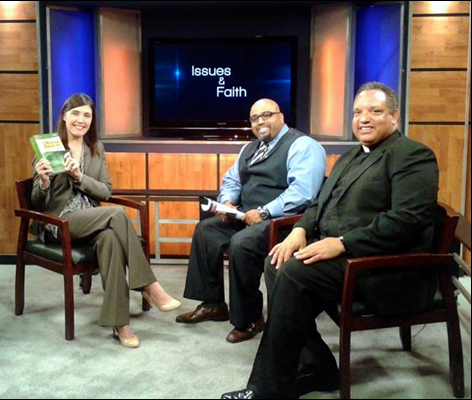 After five years in the making, The African American Catholic Youth Bible is now available! Our own Fr. Maurice Nutt, Director of the Institute for Black Catholic Studies and professor of Homiletics at Xavier University of Louisiana in New Orleans, was one of 17 authors from across the nation who contributed introductions, commentaries, illustrations and prayers targeted to a young audience.
A collaboration between St. Mary's Press and The National Black Catholic Congress, Inc., the new Bible is the first Catholic Bible for youth designed especially from the African American perspective. This Bible speaks directly to African American youth through inspirational Black art and commentaries on biblical events and personalities from an African American perspective. It chronicles major events in African American Catholic history and includes moving stories of holy African American men and women.
Fr. Maurice specifically contributed to the Gospel of Matthew, 2 Timothy and Titus. He said it was a great pleasure to contribute to the work and help young people find knowledge, strength and encouragement from the Word of God. "Actually, all ages will benefit from reading it, as it applies the Bible's message to situations African Americans may be facing now or will face in the future, and suggests ways to use the Bible for personal prayer," he said. "I'm excited about the potential it has to impact the lives of so many."
Fr. Maurice and Dr. Ansel Augustine, Director of the Office of Black Catholic Ministries and a fellow contributor, recently promoted the new Bible on the television program "Issues & Faith," produced by the Catholic Communications Office of the Archdiocese of New Orleans. Nine of the contributors are faculty members of the Institute for Black Catholic Studies.
The Bible is available from St. Mary's Press: www.smp.org
PS – Photo caption if you need it: Fr. Maurice Nutt (right) and Dr. Ansel with the host of "Issues & Faith." The new Bible.
Submitted by Kristine Stremel