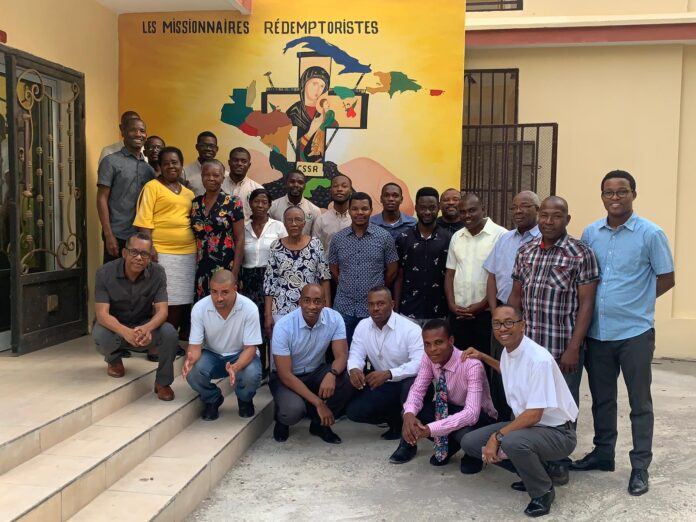 The Redemptorists of Haiti celebrate the feast of Saint Clement in a newly built house.
Despite the climate of terror that the Haitian capital has been going through for several years, in a fraternal atmosphere, the confreres of the three Redemptorist communities of Port-au-Prince gathered in the newly built St Clement House to joyfully celebrate the feast of St Clement Maria Hofbauer, patron of the formation house who helped spread the Congregation.
The Eucharistic celebration was animated by the young people in formation. In his circumstantial homily, Father Renold Antoine, C.S.R, who presided over the celebration, highlighted some fundamental aspects that marked the life of St Clement.
After the mass, the brothers took photos, visited the building, and finally, there was a fraternal sharing.
For many participants, being able to come together as a community, especially in the current context of Port-au-Prince, enabled the brothers to strengthen fraternal ties and also strengthen their missionary commitment to continue to proclaim Hope in Haitian lands in the footsteps of the Redeemer, just like St Clement.
Fr. Renold Antoine, CSsR
---
Haiti has been submerged in a deep economic, security and political crisis for years. The assassination of President Jovenel Moïse in July 2021 aggravated the situation. Violence and social insecurity are the population's main problems.

UNICEF reports that schools in Haiti are targets of violence. In a report, the UN agency pointed out that 72 schools in Haiti have suffered acts of violence so far in 2023 by armed groups.
"Bags of rice, pasta and corn used for school meals – a lifeline for many Haitian children – have also been stolen, along with kitchen utensils," Unicef adds. The agency also warns of growing instability in the country, which has seen armed gangs take control of many areas and threaten the ability of children to attend school.
The Haitian Bishops' Conference, recalling the visit of Pope John Paul II's visit, has recently issued a cry of alarm:
"Internal disputes have given rise to bad governance characterised by impunity, injustice, excessive inequality, corruption and violence. This corrupts the entire social body and erodes the living conditions of our brothers and sisters, many of whom live in extreme poverty.
Armed gangs call for robbery, rape, looting, arson, kidnapping, and murder. In all parts of the country, they multiply their displays of force, occupying new spaces every day under the impassive gaze of the authorities, whose indifference and inaction are more than disconcerting.
How can those in power, who should defend and protect citizens, be so passive in the face of such cruel violence, which plunges society into collective anguish and despair? We recall the same people's cry as forty years ago: "Something must change here! And it is the time!"
Scala News