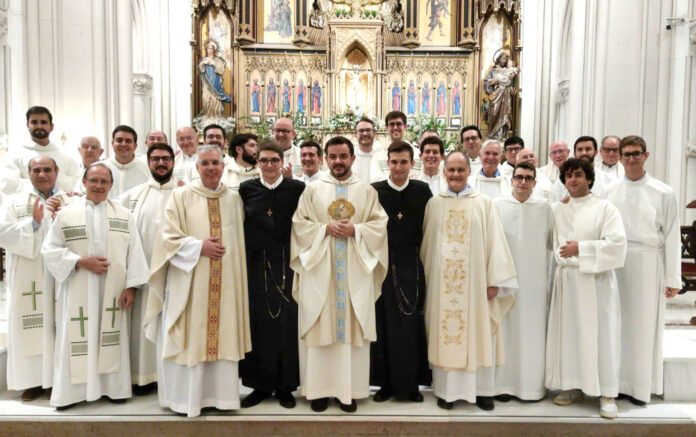 Last Saturday, September 30, two Redemptorist brothers Pablo Buetas Giménez and Jesús Mula Lupiáñez made their religious profession in the Nuestra Señora del Perpetuo Socorro parish in Madrid.
The Eucharistic celebration was presided over by the provincial of the Redemptorists of Spain, Francisco Caballero CSsR, who after reading the gospel addressed the novices with this question:
Dear brothers, what do you ask of God and his Holy Church?
To which they responded together:
We, after having known your Constitutions and having lived fraternally among you for a time, ask you, Provincial Father, to be able to consecrate ourselves to God and his Kingdom by making the Holy Religious Profession in this Congregation of the Most Holy Redeemer.
After the homily, the provincial asked the novices if they wished to unite with God through religious profession by living the temporal vows of poverty, chastity and obedience.
Along with the answer, the candidates professed their vows.
Thus, finally, the provincial said:
PABLO, JESÚS​​I receive you fraternally,
as professed brothers of religious vows
of the Congregation of the Most Holy Redeemer.
In the name of the Father and of the Son and of the Holy Spirit
The celebration brought together many people from the community, including family members, Redemptorists and friends of the novices, who after the ceremony congratulated and celebrated this important moment in the lives of our confreres.
We join in the joy of the Spanish community for these newly professed members.
Scala News