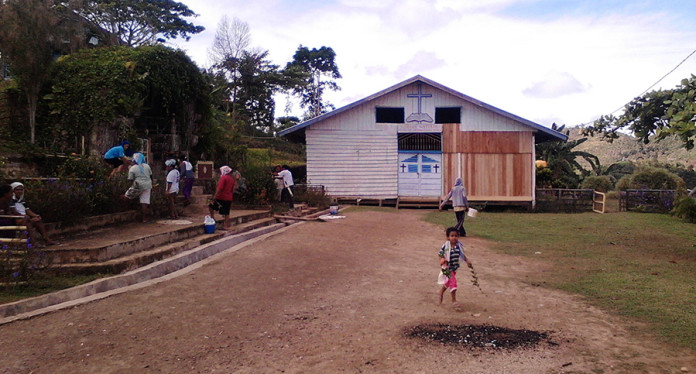 It felt like I was dreaming and I was really surprised and terrified when I was asked by Father Kimmy Ndelo, CSsR, the new Provincial of Indonesia, to participate in a new mission which was to be on the border between Indonesia and Malaysia. This idea had not crossed my mind before as I had been sent to the Philippines as a preparation for a new mission to migrants in Sandakan, Malaysia. The mission in Sandakan had not yet come to fruition as Fr. Meus Kelen, CSsR and I were still making preparations to go to Sandakan, as it was not opportune to enter a Muslim country like Malaysia for a mission to migrants.
On February 14 2015, Valentine's Day, I flew from Davao in the Philippines to the new mission, which is in a very remote area, far away from the capital city, Jakarta. It is located on an island named Sebatik Island (Pulau Sebatik).
Indonesia 2 Although the island is small, it is very unique as Sebatik Island is divided into two parts; half belongs to Indonesia and the other half to Malaysia. Two currencies are used on the island, the Indonesian Rupaih and Malaysian Ringgit, but there is a predominance of Malaysian products over Indonesian ones. The reason for this is that people on the island prefer to buy products from Malaysia because Tawao City (Malaysia) is only around 15 to 20 minutes by speedboat from Sebatik Island and therefore more accessible to them.
Our mission station is in the Indonesian part of the island, very close to the boarder. The mission station itself is called Saint Peter Lourdes and falls within the territory of the parish of Saint Gabriel Nunukan. This mission is a great initiative for us as Redemptorist missionaries from Indonesia as well as being a huge challenge.
There are migrants that come to Sebatik Island from many different tribes and places in Indonesia, some even come from the Philippines, with many of them being victims of deportation from Malaysia. Every month hundreds of migrants are deported from Malaysia and for them Sebatik Island is one of the safer places to go. They cross to Sebatik just to avoid any penalties imposed by the Malaysian government, as many of them do not have valid documents.
There are many problems among the migrant peoples in this mission area, ranging from basic needs for living to the need for pastoral ministry and the sacraments. The Redemptorists were given this mission by the local bishop as it is in a very remote location and is difficult for the priests from Nunukan Parish to cater for all the needs of the migrant communities. Nunukan Parish is quite a huge area and it is not easy to get into all stations of the parish over a month.
We have started this mission with nothing and we really need the support of people. At the moment there is no water supply and we depend on rain, we have a small chapel built with wood and an electricity supply of just four hours per-day. As we continue working with these very poor people we are sure that God will never abandon us and that His kindness will be shown for us through the generosity of the many people, and through those who have a care for the outreach to migrants.
Father Gusty, CSsR (Indonesian Redemptorist)