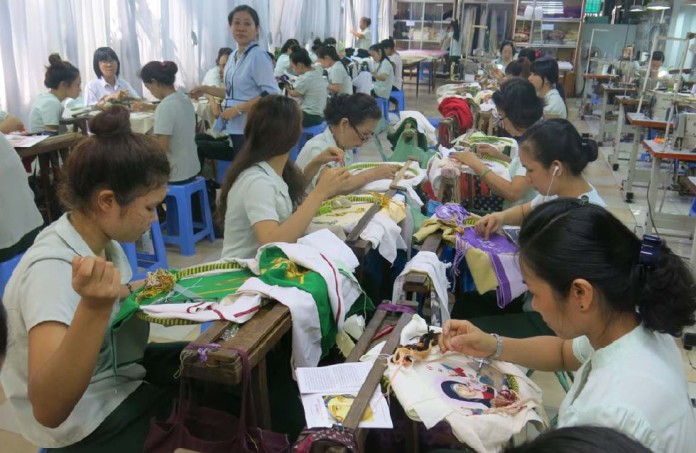 by Kristine Stremel
After six months of planning, revising, refining and perfecting, the Sisters of Christian Charity in Vietnam have produced the first 20 of 100 new hand embroidered Perpetual Help vestments and matching stoles for members of the Denver Province to wear at the Jubilee Year Mass at St. Alphonsus "Rock" Church in St. Louis next June.
Fr. Chuong Cao, who is spearheading the project on behalf of the Denver Province Jubilee Committee, spent countless hours obtaining and comparing bids, shopping for fabric in the USA and abroad, collecting measurements from his confreres, calculating shipping costs and import fees to Vietnam, creating the distinctive designs, submitting them to Committee members for review and approval, and directing and reviewing the work of the Sisters from afar.
"Our new liturgical vestments and stoles must be as perfect as possible because we are honoring Mary," Fr. Chuong explained. "The hardest part for the Sisters was creating an image for the Western culture because the image itself and the color selection are different, and we dramatically reduced the degree of elaborate decoration. The Sisters say that I am very picky because they had to make so many revisions and refinements, but now we have a very simple and elegant design that is fitting to honor the Mother of God during the Jubilee Year celebration." The Sisters of Christian Charity in Vietnam have great devotion to the Blessed Mother and serve the Church by using their gifts to make liturgical vestments. They are very familiar with Our Mother of Perpetual Help, and meditate and pray during their work. Although each of the Sisters and novices has a specific job in the process of producing vestments and stoles, only the 10 best stitchers are actually embroidering the vestments. Each of them meditates on the Icon of Our Mother of Perpetual Help and prays with every stitch that they make.
Much credit is due to Fr. Chuong's family members, who provided the initial capital to start the project and have been serving as intermediaries during their travels to Vietnam – bringing samples back for review and returning with specific instructions, conveying updates and delivering the finished vestments.
The cost of the new Jubilee Year vestments is estimated at $250 each – a bargain considering the fine quality workmanship of the tailor-made vestments that can be worn again on feast days and at professions, ordinations and other Redemptorist gatherings. The Mission Advancement Office is soliciting donations for the new vestments, as well as other expenses involved with the Jubilee Year celebration. Visit maryprayforus.org/jubilee_support or mail checks earmarked as Jubilee Year gifts to: Redemptorists Denver Province, Attn: Jubilee Gift, 1230 S. Parker Road, Denver, CO 80231.
Watch the Sisters of Christian Charity at work: https://www.youtube.com/watch?v=EXgrBcMV3Ts&feature=youtu.be