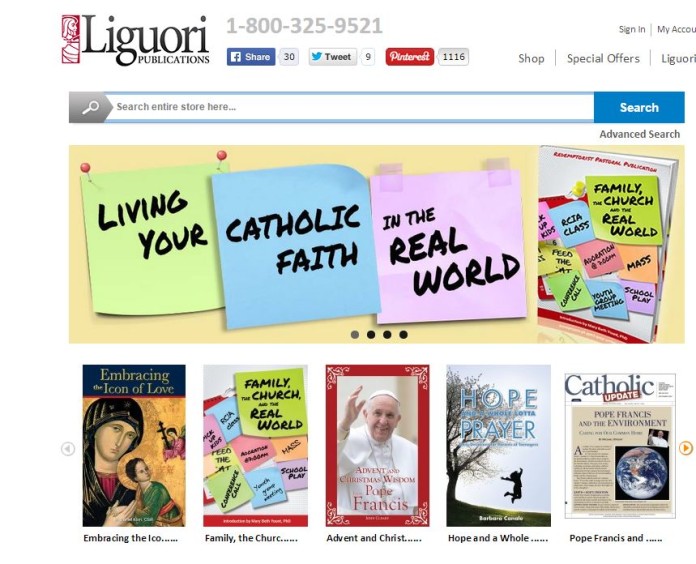 Liguori Publications' board of directors has elected Father Byron Miller, C.Ss.R., as president, effective Sept. 14. Miller, the former executive director of the National Shrine of Blessed Francis Xavier Seelos in New Orleans, succeeds Father Donald Willard, C.Ss.R., who served as Liguori's president for two years.
"I'm very happy to be here," said Miller. "As we approach our 70th year of publishing (in 2017) at this location, we will continue to build on our rich legacy in new and innovative ways."
"We are at our best when we connect pastorally with people in the marketplace, the pews, and any setting," he said. "The opportunities are limitless whenever we can re-present the truth of the Gospel. It's what we're called to do as Redemptorists."
"Fr. Byron has worked among the faithful for more than two decades," said Virgil Tipton, Liguori's publisher. "He knows the challenges parishes face in evangelizing and teaching. We're excited about having his insight as we develop faith-formation programs and solutions that make it easier for parishes to offer meaningful faith experiences."
Miller was born in Crowley, La., and was ordained a Redemptorist priest in 1990. He served in retreat ministry with young adults and as a parish priest at two culturally diverse parishes, Holy Ghost in Houston and St. Gerard in San Antonio. He also has been a vocation director and the local superior for the San Antonio community of Redemptorists.
In 2000, the province appointed him as the executive director of the National Shrine of Blessed Francis Xavier Seelos in New Orleans. He also became the vice-postulator of the sainthood cause for Father Seelos, a Redemptorist who died in 1867.
"Father Seelos knew that the more concerned we are with our heavenly Father's business of all-merciful love, the more on fire we will be," said Miller.
At Liguori, "we're going through a transition in one leadership position, but our team approach continues to propel Liguori in the right direction," said Miller. "We will continue making the Gospel heard, and we'll use new ways to do that."
Miller invited discussion and partnership with parish leaders and others.
Continuing to strengthen its ability to connect with customers, Liguori also recently hired Mary Wuertz von Holt to fill the new position of director of sales and marketing. She came to Liguori from the Archdiocese of Chicago, where she served on key programs for three departments.
"Mary brings to Liguori a wealth of knowledge in parish life and diocesan workings," said Tipton. "Mary also has great technical and web expertise. She'll help us respond more quickly to our customers and bring needed products and solutions to new and existing markets."
At the Archdiocese of Chicago, Wuertz von Holt developed strategies and set up systems for a multi-year capital campaign. She ensured that team building and communications efforts among parish pastoral staffs benefited from an educational partnership with Loyola University in Chicago (where she sits on the Institute of Pastoral Studies' Advisory Council, heading up marketing). She created content and social media strategy to engage young adults and nurture vocations to the priesthood and religious life.
Adding to this work, Wuertz von Holt has two decades of branding, integrated marketing, database marketing, and sales channel experience. She worked at industry-leading advertising agencies and corporations such as DraftFCB and Grey Advertising, the international firm Bosch GmbH and other technology companies, as well as founding a marketing agency.
Wuertz von Holt studied marketing and computer science, which helped her develop an expertise in database marketing and analytics, for her MBA from Loyola University in Chicago.
"I'm looking forward to creating products and solutions that help parishes reach today's busier, distracted families," said Wuertz von Holt. "And our trade partners provide a familiar, local face to customers. We'll continue to help them expand and flourish.
"We're building a more engaging web community with more content to think about and share," she said. "We're listening even more closely. And we'll offer customers a more satisfying and responsive experience."
More information in Liguori.org
http://liguori.org/