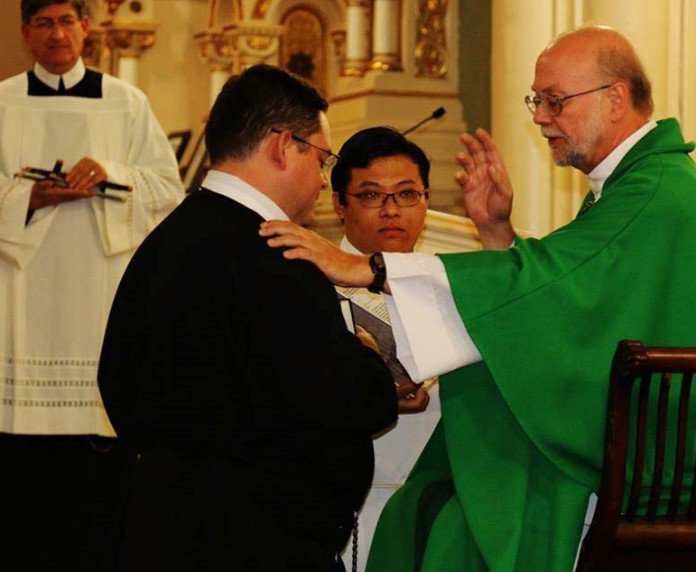 Confreres, family and friends witnessed Kevin Zubel and Quy Duong profess perpetual vows before Provincial Superior Steve Rehrauer at St. Michael Church in Old Town on October 17. The liturgy and the surrounding celebrations brought great joy and encouragement to Kevin and Quy, as well as all of those who gathered earlier this month in Chicago.
"In the weeks leading up to the event, Quy and I had a great opportunity to reflect on the more than six years of adventures, joys and challenges we've traversed together throughout formation, so it was especially meaningful to profess vows side-by-side," Kevin said. "It was a day of prayer, laughter, and calories galore!" Quy added, giving thanks and praise to God "for all He has blessed me with in my life as a Redemptorist and as a Christian."
Any lingering doubts Kevin may have had melted away during the fraternal embrace. "Confrere after confrere offered a warm welcome and reminded me that even an individual vow and commitment is not taken alone," he said.
"Even now, support continues to pour in through emails, cards, and other messages. I am deeply grateful to my confreres for embracing me within our common apostolic life."
Kevin said that his family and friends were amazed at the warmth and hospitality they received from the Redemptorists, and got a stronger sense of why he was excited to commit to a lifetime of mission in the Congregation. "I was also humbled and blessed by the presence of parishioners not only from St. Michael in Old Town, but also those who traveled from Grand Rapids and Minneapolis," he added.
Mourning recently deceased mentors was a bittersweet element of the celebration. "The memory of my late great-aunt Sr. Helen, OP was very much in my mind and heart," Quy said. "She continues to be a source of strength, love, joy and maternal correction as I persevere in the Redemptorist way of life. I truly believe she was with me spiritually, and had a beaming smile on her face as I professed final vows."
Kevin noted that the Denver Province is still mourning Fr. Kevin Fraher, a fervent supporter of all students in formation. "His memory joins the legacy of generations of confreres who continue to inspire us and guide us through their example as we take our next steps in the great mission of proclaiming plentiful redemption to the poor and most abandoned," Kevin said.
Quy and Kevin are especially grateful for the support and prayers of their confreres throughout the years.
"Thank you for welcoming us into your communities and for being sources of wisdom and fraternal charity in our Redemptorist vocation discernment," Quy said.
"Be assured of our continued prayers for you. We look forward to living the Redemptorist apostolic life with you for many years to come."
Submitted by Kristine Stremel