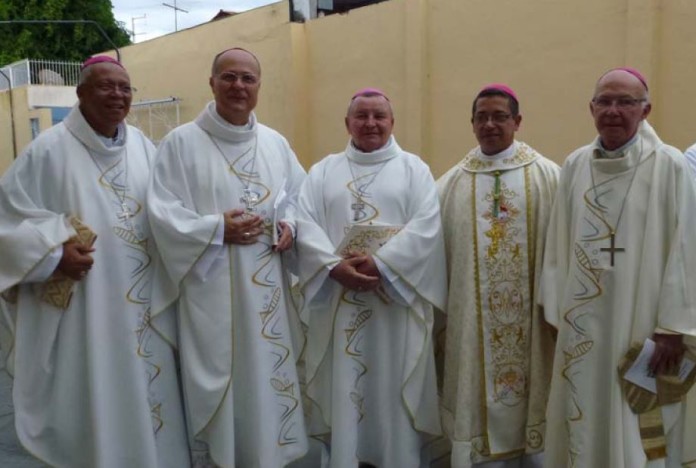 by Fr. Tom (Miguel) McIntosh
The Vice Province of Manaus is celebrating the episcopal ordination of one more of its own! Former Vice Provincial Zenildo Luiz Pereira da Silva was ordained a bishop for the Prelacy of Borba in Amazonas, Brazil on April 2.
Bishop Zenildo has been appointed bishop coadjutor, with the right of succession.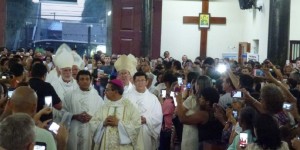 In addition to eight bishops – four of them Redemptorists – members of the Vice Province, priests and deacons serving in the Archdiocese of Manaus, the Diocese of Coari and the Prelacy of Borba gathered at Our Lady of Aparecida Church in Manaus for the ordination. Our own Fr. John Gouger and Br. Leo Patin represented the Denver Province. Thousands of people traveled from near and far to attend. Of course the church couldn't hold all of those eager to participate in the joyous occasion, so a large viewing screen was placed outside so that those who could not enter the building could witness the ordination ceremony.
Retired Archbishop Luiz Soares Vieira of Manaus presided, assisted by Bishop Gutemberg Freire Regis and Bishop Elói Roggia of the Prelacy of  Borba.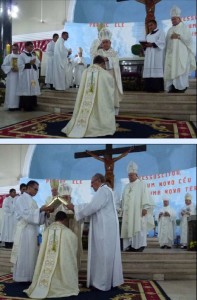 Bishop Zenildo is the sixth member of the Vice Province of Manaus ordained to serve the Church in Brazil as a bishop, joining these confreres: Bishop Tomás William Murphy, Bishop Mário Robert Anglim, Bishop Gutemburg Freire Regis, Bishop Alfredo Novak and Bishop Jacson Damasceno Rodrigues.
Cover, left to right: Five Redemptorist bishops – José Luiz Ferreira Salles, Darci José Nicioli, Marcos Piatek, Zenildo Luiz Pereira da Silva and Gutemberg Freire Régis.
Left to right, from top: Fr. Zenildo processes into the church before the ordination ceremony, leading the way for Fr. Ronaldo de Oliveira, Vice Provincial Superior of the Vice Province of Manaus (right) and the other concelebrants; a delegation processes into the church with a statue of St. Anthony, patron of the Prelacy of Borba; and Fr. Zenildo Luiz Pereira da Silva lies prostrate before the altar during the Litany of the Saints.
(Photos by Tanna Kellyn Lima Holanda)