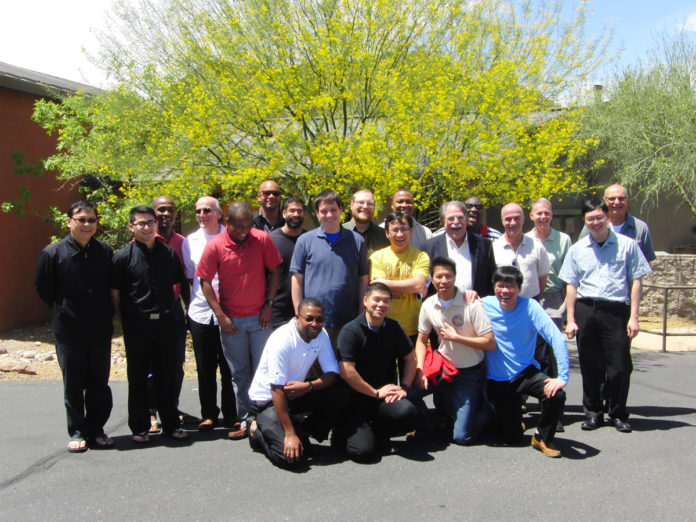 Young Redemptorists making their Transition program here in Tucson
(Tucson, USA, May 3, 2016) – In the three decades that Vincent Bilotta, Ph.D., of Formation Consultation Services, has facilitated the Transition to Ministry program for the Redemptorists, a record was set this year with 18 participants!
For the first time, four members of the Vietnamese Extra-Patriam joined participants from the Caribbean Region, Baltimore Province and Denver Province.  New co-directors, Bob Wojtek, CSsR (Annapolis, MD) and Byron Miller, CSsR (Liguori, MO) were transitioned into the program as well.  The gathering was held April 25-29 at the Redemptorist Renewal Center (RRC) in Tucson, Arizona.
It is often said that the first five years after perpetual vows/ordination can be the most challenging.
The Transition to Ministry program provides a semi-annual opportunity for those within this five-year period to share their experiences in active ministry and community life, reconnect with confreres from their years together in formation, and offer solidarity and mutual support.
Initial reactions seem to indicate that our days together were a positive experience for the participants.  Kudos also to the staff and community at the RRC for the good food and welcoming hospitality.
About the Redemptorist sabbatical program for priests and religious…
Redemptorist Father Paul Coury, director of the Redemptorist Renewal Center, and a long-time migrant advocate priest Redemptorist Father Ricardo Elford led a group of sabbatical participants on April 26 to visit the Jesuit-run Kino Border Initiative (KBI) that provides humanitarian assistance to migrants (men, women and children) deported to Nogales, Sonora, Mexico.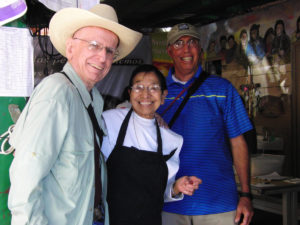 They visited Nazareth House, a shelter for migrant women and children, and Aid Center for Deported Migrants (CAMDEP initials in Spanish), a place where deported migrants are fed twice a day. The CAMDEP also distributes clothing and other personal care items and provides referral to Mexican government services.
Thousands of migrant men, women and children are deported each year to Nogales, Mexico. After being deported, they often have no idea where to receive a meal or find shelter. They usually arrive to Mexico with a small plastic bad that contains their belongings. At night, some find shelter on the streets or a cemetery, or other church-organized shelters.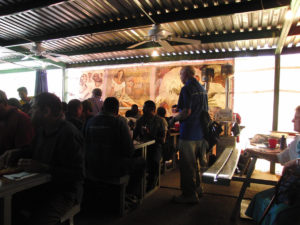 Our sabbatical participants (clergy and religious from Ecuador, Ireland, Canada, Australia and other parts of the United States) also met a number of migrants who were actually deported on that day. During the visit, they also volunteered to serve dinner to the more than 60 deportees that evening.  A number of them talked to the visitors about the pain and devastation of living apart from their family members in the United States. At the end of the visit, Father Paul expressed gratitude on behalf of the sabbatical participants to Joanna Williams, an advocate and education director of the KBI, who accompanied us in this visit for the experience of service to our marginalized brothers and sisters.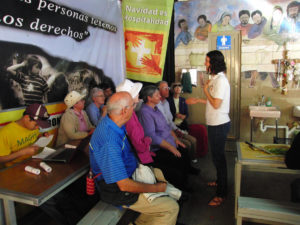 Each year the Redemptorist Renewal Center, based in Tucson, Arizona (USA) runs two ten-week sabbatical (spring and fall) and one five-week sabbatical (summer) programs. The program draws priests and men and women religious from around the United Sates and the world.  The Redemptorist Renewal Center is about an hour drive from the U.S.-Mexico border. The Redemptorists organize this exposure trip for priests and religious so they can have a better understanding of a border-outreach ministry.
Peter Tran
Assistant Director
Redemptorist Renewal Center