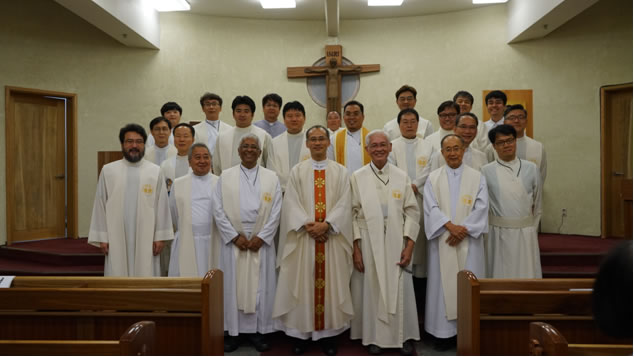 25th anniversary of foudation of CSsR in Korea
     The Region (now Conference) of Asia-Oceania, having a meeting at Bangalore, India, decided in January 1991  to establish a Redemptorist Mission in Korea. During that Regional meeting, the Superiors of the Units belonging to the Region promised to help the new foundation by sending personnel and material assistance.  Fr. Luis Hechanova (now deceased) one of the General Consultors, was given the task of negotiating with the Archbishop of Seoul for the foundation. So on August 1, 1991, the pioneering project was officially opened at Seoul City, South Korea , with the Eucharistic liturgy officiated by Fr. Hechanova, with the presence of Fr. Ramon Fruto, the Vice Provincial Superior of Cebu Vice Province (Philippines), some members of Our Lady of Perpetual Help Sisters and their lay associates.  The Superior of the Mission was Fr. Man Yong (John) Lee, C.Ss.R.  He is a Korean member of the Campo Grande Province, Brazil.  By the end of October that year the small pioneering community was complete, with the coming of Fr. Wilfredo Cruz Jesena, from the Cebu Vice Province (now Province) and Fr. Phaiboon (Augustine) Udomdej  from Bangkok Vice Province (now Thailand Province). It was a multi-national community of Asian confreres. The Mission is under the patronage of St. Alphonsus Liguori. The foreign confreres right away entered the language school.
The Archdiocesan Assistant Bishop Peter Kang directed the first community to devote itself to the following apostolic works:
– Work among the poor.
– Evangelization through the Marian devotion, especially the Perpetual Help Novena.
– Spiritual formation of priests, religious, and the laity.
Within the past 25 years, with the zeal of the Korean members, the Mission has become a Region, and has been carrying out the mandate of the Korean church. It has now 10 Korean priests, 2 finally professed Brothers, 6 formands in various stages of formation, and three foreign  members: 2 Filipinos and one Thai. They live in three communities.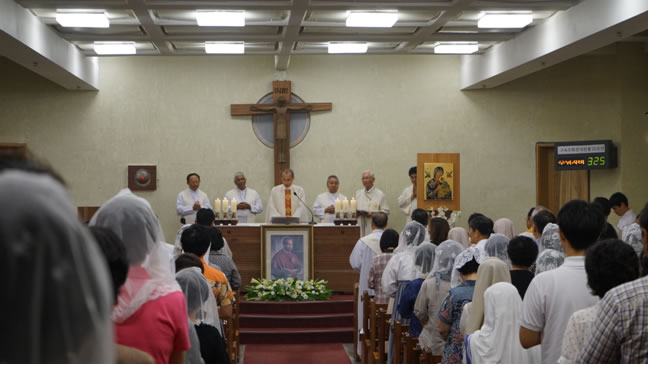 So, on August 1, 2016, there was a simple but meaningful celebration of thanksgiving with priests, religious, and lay people. The three pioneers of the foundation are still living, and have joined the historical celebration. Unfortunately, one of then had to be hospitalized.  Fr. Juvy Andrade, C.Ss.R. Consultor General, Fr. Ben Ma, C.Ss.R , coordinator of the Asia-Oceania Region, and Fr. Nozomu Ishida, C.Ss.R. representing the Japan Province were our special guests.  Fr. Andrade gave the Regional members an inspiring talk about the charism of the Congregation and the challenges, we, Redemptorists, have to respond to in our world today.  With people and the assistance of our holy confreres and Our Mother of Perpetual Help, we praise and thank God for all His blessings in good and bad times. Renewed by our 25 years of service, we look forward with hope to the future.
Rio / Fr. Macario J. Lee, C.Ss.R.