Left to right, from above: Fr. Gil Enderle and Fr. Dick Thiele join confreres to process through the Door of Mercy behind the Vice Provincial leadership team – Vicar Joterio Aghoja, Superior Kingsley Onyekuru and Consultor Jude Anyaegbu
In communion with the universal Church, the Vice Province of Nigeria recently gathered for a fraternal celebration of the Year of Mercy at the Cathedral of St. Mary, Oke-Pade, in the ancient city of Ibadan. Vice Provincial Superior Kingsley Onyekuru presided at the celebration, which included a penitential service, sacramental Confession, the Eucharist and Exposition of the Blessed Sacrament. Vice Provincial Vicar Joterio Aghoja and Vice Provincial Consultor Jude Anyaegbu, who preached the homily, assisted.
Referencing the parable of the Prodigal Son, Fr. Jude emphasized that everyone who passes through the Door of Mercy should emulate him by taking responsibility for their sins and resolving to submit to the mercy of God.
Just as passing through the Door of Mercy signifies our reception of the Heavenly Father's mercy, we are to become a passageway of God's Mercy to others. He cautioned against denying the invitation to embrace God's mercy by refusing to enter the house like the older son in the parable. A divine invitation is offered to us so that we may never forget that compassion is the foundation by which we should relate to others, especially as confreres.
by Philip Obasi, C.Ss.R.
(from denverlink, v9, october21, 2016)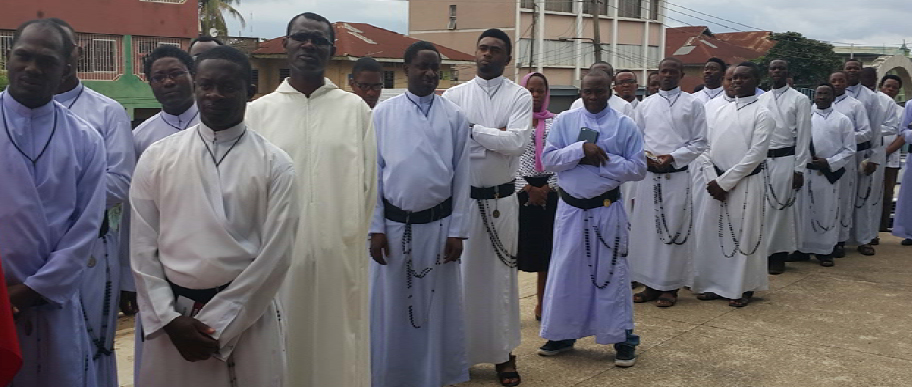 confreres prepare to process through the Door of Mercy