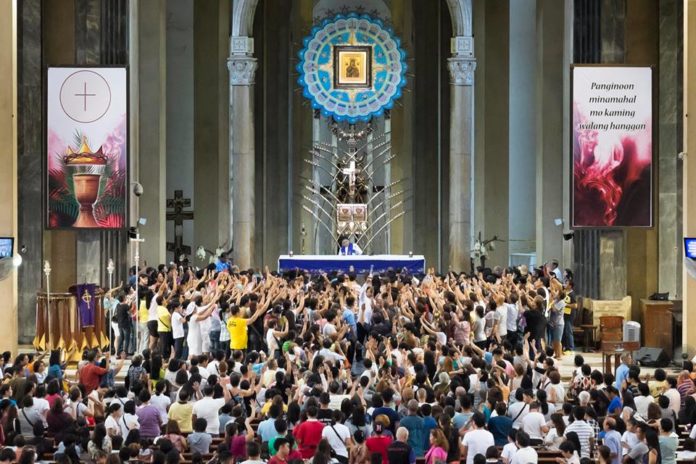 Our Mother of Perpetual Help Icon at Baclaran Church
Fr. Amado L. Picardal CSsR recalls that when he was a political prisoner during the martial law years, he had a fellow inmate bearing a tattoo of Our Mother of Perpetual Help (OMPH) on his back. There was teasing for the guy to take off his shirt so the tattoo would be displayed while the inmates prayed the Marian novena.
Who is not familiar with the image of OMPH and who it represents, the reason thousands of Filipinos flock to the Baclaran shrine and to other churches nationwide on Wednesdays? The image or icon (a representation in the Byzantine style) shows Mary holding the infant Jesus, with angels floating beside them. It has become so popular it is now part of the Philippine cultural landscape and everyday life.
I think it was Filipinos who were first, or are the only ones, to affectionately call the mother of Jesus "Mama Mary," as if she were a member of the family. Filipinos took to calling her that quite recently (I don't think it has been 40 years). In yesteryears she was reverently called "Blessed Mother," "Virgin Mary," "Mahal na Birhen," etc. She sure has many formal titles, among them "Our Lady of Perpetual Help/Succor," with many translations in Filipino languages such as "Ina ng Laging Saklolo."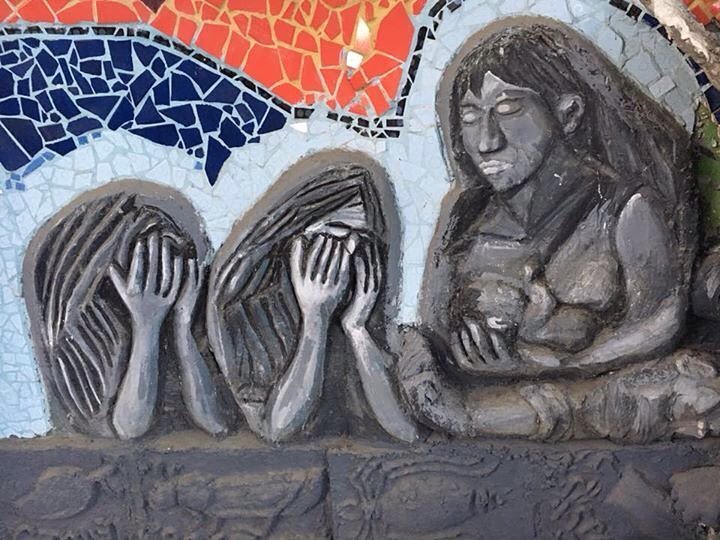 Just out is the book "Our Mother of Perpetual Help Icon and the Filipinos," with a mouthful of a subtitle, "Multidisciplinary Perspectives to a Perpetual Help Spirituality." It comes out in time for the 150th year since the time Pope Pius IX entrusted the icon to the Redemptorists in 1866 with the admonition, "Make her known." The icon is now in St. Alphonsus Church on the Via Merulana on Esquiline Hill in Rome.
St. Alphonsus Liguori is the founder of the Congregation of the Most Holy Redeemer. The Redemptorists (CSsR), as they are called, came to the Philippines in 1906. The Irish and Australian Redemptorists started the devotion in the islands after World War II, in Iloilo (1946) and Baclaran (1948).
Marking the 150th anniversary is the International Congress of Redemptorists of the Philippines and Asia-Oceania on April 24-27 at the Redemptorists' OMPH shrine compound in Baclaran.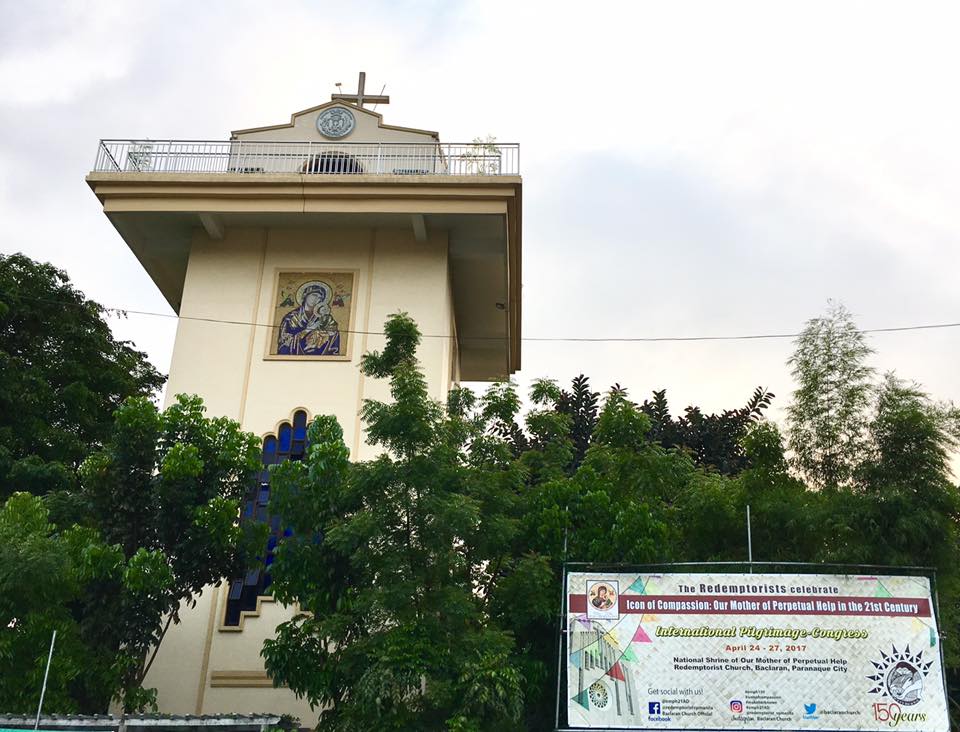 Edited by Bro. Karl Gaspar CSsR and Desiree A.B. Mendoza, the book contains eight essays by experts in theology, history, sociology, anthropology, spirituality, etc. Coming from different perspectives, the authors help us understand the history, evolution and meaning of the Filipinos' unabashed devotion, and more. The book is published by the Institute of Spirituality in Asia and the Redemptorists in the Philippines.
The book is a great sequel to "The Baclaran Story," written by Fr. Luis Hechanova CSsR in 1998. It presents the devotion in newer light, and with more depth and breadth, so to speak, partly because of how the Church and Philippine society evolved and is evolving. The fervor has not dimmed, that is for sure, and has even gone abroad with overseas Filipino workers.
I do not have enough space to dwell on each of the eight chapters in the book, but the titles are descriptive enough to give an idea about each author's take on the devotion:
"Devotion to the Mother of Perpetual Help in the Philippines: Phenomenological and theological reflection" by Amado L. Picardal CSsR; "Make Her Known: How the devotion to OMPH flourished in the Philippines" by Trizer Dale Mansueto; "Embracing the Mother's Perpetual Compassion: The specific place of OMPH icon novena in the Philippines' varied Marian devotions" by Karl M. Gaspar CSsR; "Assessing the Relevance of the Perpetual Help Devotion in the Philippines Today: A view from the social sciences" by Manuel Victor J. Sapitula;
"The Devotion to OMPH at the Baclaran Church Before and After Vatican II" by Agnes M. Brazil; "Novena Prayers to One Like Us" by Ramon D. Echica; "The Year of Mercy and the 150th Jubilee of OMPH" by Carlos Ronquillo CSsR; "The Baclaran Story: Towards Debo(Mi)syon: Devotion and mission" by Victorino A. Cueto.
(from Inquirer.net)