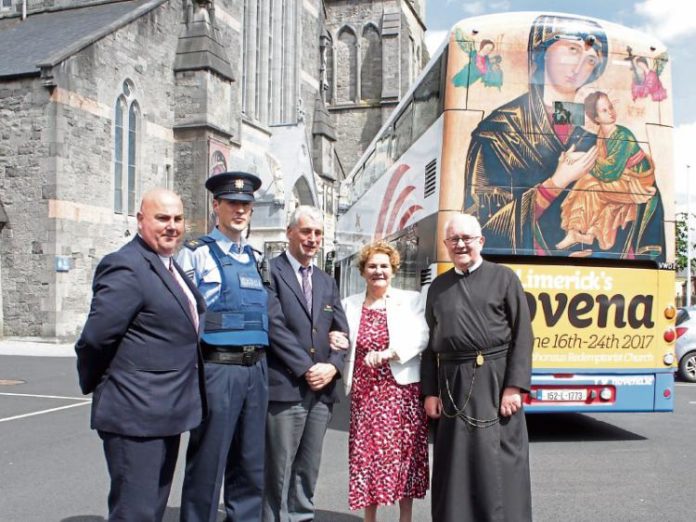 Ger Dorin, Bus Eireann, Sgt Kevin Balfe, driver Eamonn O'Sullivan, Teresa Delaney, and Fr Seamus Enright Picture: Michael Cowhey
Redemptorists at mount St Alphonsus and Bedford row family project working together
For the first time in its history, Limerick's annual Solemn Novena will be extended to some 250 male and female inmates at Limerick Prison.
The Redemptorists at Mount St Alphonsus and Bedford Row Family Project, which support families affected by imprisonment, will be working together this year to enable prisoners and their families join in celebrating the novena.
"Healing the hurt brought about by imprisonment in a family can take time, a lot of listening, understanding, and a belief that everyone has the potential to change," said Fr Seamus Enright, rector of the Redemptorists.
Fr Enright said they were inspired to spread the message of the novena to the prison, after the positive reception they received when they brought an icon of Our Lady to both Limerick Prison and Mountjoy jail last year.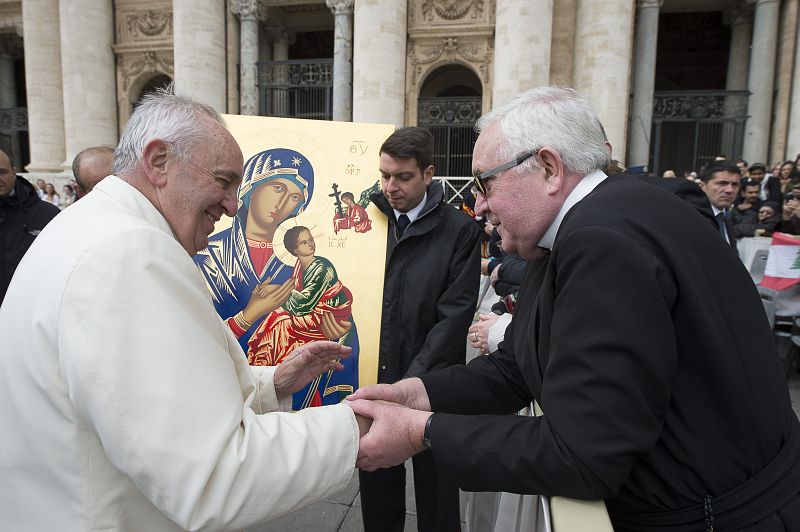 Masses in the Mulgrave Street jail on Sunday, June 18, will be celebrated as part of the Novena, while there will be a special novena celebration at the Bedford Row Project on Friday, June 16, the first day of the Novena.
The festival of faith — the largest religious celebration in the Mid-West – has been described as the "Munster final of religion" in Limerick, and will look at marriage and the role of family life in modern society as a way of preparing for the World Meeting of Families event in August 2018.
The novena at the Redemptorists begins this Friday, June 16 and continues until Saturday, June 24. There will be 10 celebrations each day, beginning at 7am and ending at 10.30pm. The blessing of babies and children will take place on Sunday, June 18 at 4.30pm.
The special novena celebration for the sick, elderly and infirm will take place on Saturday, June 24 at 11.30am. Confession and a free walk-in counselling service will be available during each day.
Last Friday, the annual Kilmallock Solemn Novena to Our Lady of Help commenced in Kilmallock Church. This community-driven celebration will finish on June 17.
by Anne Sheridan
http://www.limerickleader.ie