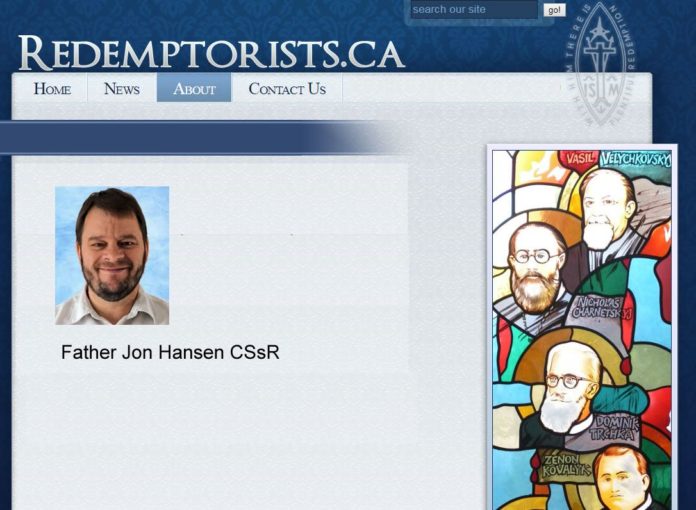 (Vatican City, December 15, 2017) – The Holy Father has appointed Fr. Jon Hansen, C.Ss.R., currently the pastor of Our Lady of Victory parish, Inuvik (North West Territories),as bishop of the Diocese of MacKenzie-Fort Smith, Canada.
Fr. Jon Hansen, C.Ss.R.
Fr. Jon Hansen, C.Ss.R., was born on February 18, 1967 in Edmonton, Alberta. Raised in Grande Prairie, Alberta, Fr. Hansen attended Saint Gerard's School, Saint Patrick's School and Saint Joseph's High School there. He obtained a bachelor's degree from the University of Alberta in 1997. He completed his studies in philosophy and theology at Saint Michael's College in Toronto, concluding with his master of divinity degree in 2003.
In Saint Joseph Parish of Grande Prairie, staffed by the Redemptorists, Fr. Hansen encountered the Congregation of the Most Holy Redeemer. He made his temporary religious profession in 1998 and professed his perpetual vows in 2002.
He was ordained a priest on April 24, 2004.
After ordination, from 2004 to 2005, he served as associate pastor of St. Theresa Parish, in the Diocese of Saint John's, in Newfoundland. From 2005-2008, while associate pastor of St. Patrick Parish, he was also appointed the Director of Formation for the Redemptorist students in Toronto. In 2008 he was head of the "Out of the Cold" program, before being appointed pastor of Saint Mary Parish, in Saskatoon, until 2015. In Saskatoon, Fr. Hansen was appointed dean for the West Zone and member of the diocesan presbyteral council.
In 2015 he began his experience as pastor of "Our Lady of Victory" in Inuvik, in the Diocese of MacKenzie-Fort Smith.

Fr.  Jon Hansen, C.SS.R. at the right