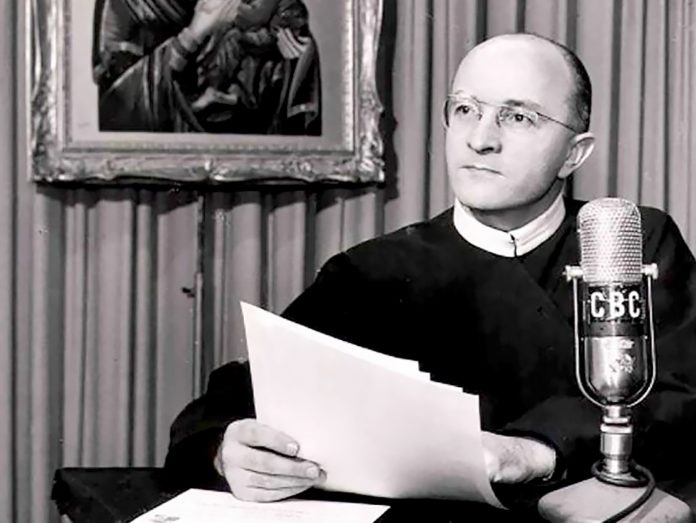 Fr. Matthew was born on 27th April 1913 of Matthew Meehan and Helen Goodwin in Toronto. He was the first-born of eight children, growing up with religion and the Irish-Canadian culture. The religious atmosphere and strong faith of his parents influenced him to the priesthood. As an altar boy, he regularly served at convent chapel of the Sisters of St. Joseph and grew in virtue and encouragement for the priesthood. Sr. Odelia, CSJ of St. Clare's school arranged that Matthew skips Grade 8 to enter St. Mary's College, Brockville. He was younger and smaller than his classmates. In the final college years, he participated in drama productions and debates, writing short stories and articles for the College Review, winning oratorical contests, including the seniors' contest in 1930 with a rousing speech on the necessity of Canada's Flag.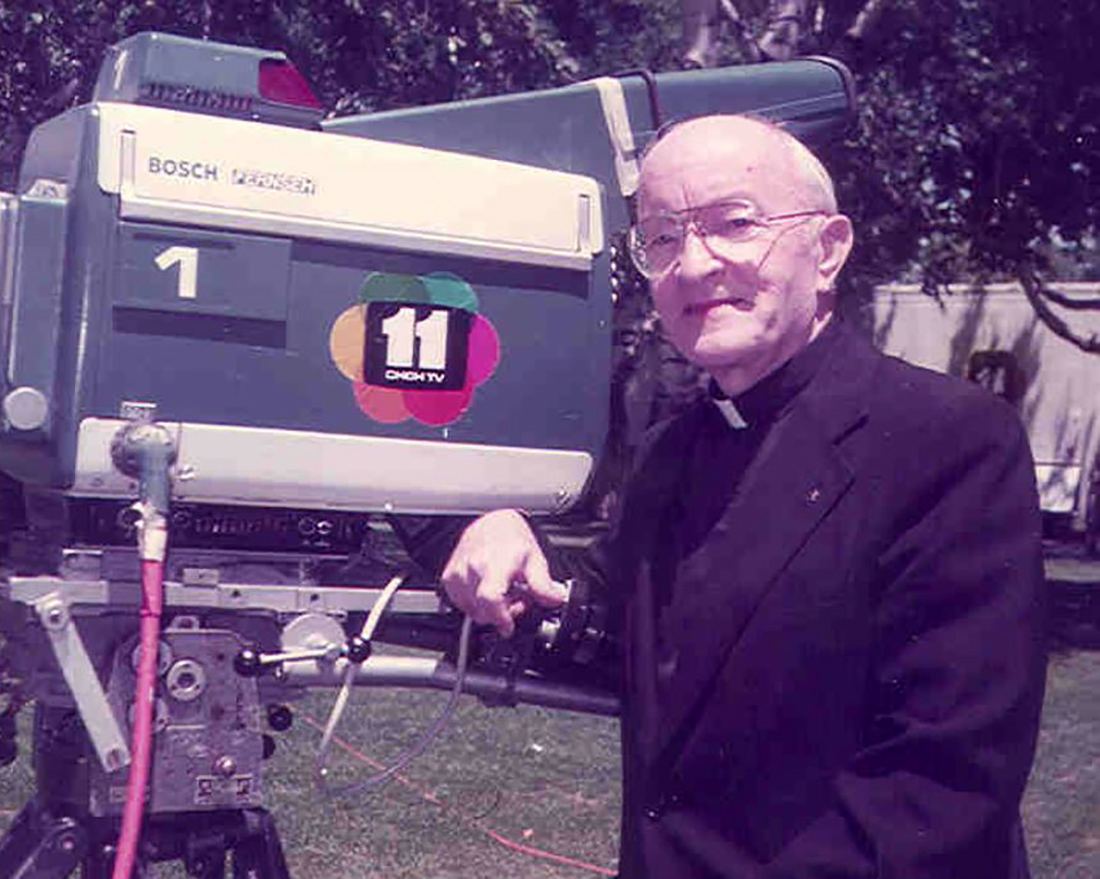 Following graduation in 1931, Matthew entered the Redemptorist Novitiate in Saint John, New Brunswick, professing first vows in 1932. After studying theology and philosophy at St. Alphonsus Seminary in Woodstock, Ontario, he was ordained on 20 June 1937. A year later he was appointed to a parish in Western Canada. Soon after he was selected to pursue graduate studies and language training since fluency in German, Italian and Slavic languages were necessary to provide pastoral care in the Western Canadian parishes. He earned a licentiate in 1939 at the Pontificium Institutum, Rome and a doctorate in 1940 on a thesis entitled "The Cogitative Power according to St. Thomas Aquinas."
Just after the fall of Holland in May 1940, Fr. Meehan returned to Canada and was appointed a professor of Philosophy, English, and elocution at the Woodstock seminary. Fr. Matthew attended a summer course at the Preaching Institute at the Catholic University of America after the first year of teaching. Later he chose to study communications by attending a journalism course at Marquette University in 1944 and the following year at the Summer Radio Institute at Queen's University in Kingston, Ontario to learn the arts of speaking, writing and directing for radio.

On November 9, 1947, Fr. Matthew's broadcasting career began on the TransCanada Catholic Hour. The program began with an introductory hymn of two or three minutes, an address up to 20 minutes and concluded with a hymn. His programs reflected an easy delivery and a polished script.  However, the appeal was the subject matter of family life.  From his first radio scripts to the last television scripts 45 years later, he explored different aspects of family life, focusing on marriage, children, teenagers and home life. Of his core message of family life. Fr. Meehan explained in a newspaper article, "Your home is the real heart of the nation."
With television replacing radio as the popular medium and the success of Bishop Fulton Sheen's show, "Life is Worth Living," the manager of the Hamilton radio station suggested to Fr. Matthew about appearing on the city's newly-launched television station. On December 2, 1956, Fr. Matthew's first television show aired on CHCH-TV. Beginning as a televised version of the
radio show consisted of five minutes of news, five minutes of a moral problem and five minutes of a thought for the week. The program reached an audience of 50,000 in the Toronto-Hamilton-Niagara-Buffalo area. In 1960, it was expanded to 30 minutes. Apart from programs he prepared scripts and appeared on the Sacred Heart Program, created by the Jesuit radio and television organization in St. Louis, Missouri, the largest Catholic syndication at that time. Twenty television programs for each series appeared on more than 800 stations in the U.S. For radio, Matthew taped 40 eight-minute segments on topics such as, "the Christian Community, Hope, Sin, and Humility."
During his broadcasting career, he was appointed Rector (1952-1959) of his Alma Mater of St. Mary's College. St. Mary's became the venue for summer missionary and pastoral conferences and parish pilgrimages to the campus Marian shrine. After St. Mary's, Fr. Meehan was appointed as rector and pastor at St. Patrick's church, Toronto (1959-1964) and oversaw the final aspects of the redecorating the church, established a boys' choir and added the title of Shrine Church of Mother of Perpetual Help to the church's exterior sign and the masthead of the church weekly bulletin. For the parish's centennial in 1961, Fr. Meehan started the celebrations with a special Mass on St. Patrick's Day and with CBC broadcasting his weekly broadcasts from the church until Easter.
In 1964, the show was expanded to a one-hour phone-in show on Sunday nights, which was considered "a first" in Canadian Catholic communications. On these shows, Fr. Meehan invited a local personality or expert to discuss a variety of topics. Occasionally his brother Joe would call to test him. Recognizing his brother's voice, he answered the questions without acknowledging the caller.
Later Fr. Matthew organized and planned a public lecture by Fr. Francis J. Connell on Family Morals and a sacred music concert. A solemn triduum December 6-8 ended the centennial with Cardinal James McGuigan of the Toronto Archdiocese as the main celebrant. A highlight came a year later when Governor General Georges Vanier, the Queen's representative in Canada, attended Mass at the church. Fr. Matthew was invited by Bishop Joseph Ryan of the Hamilton Diocese to provide Catholic broadcasting at CHML, a private radio station in the city of Hamilton He also produced and served as a commentator for programs of major diocesan events, including its 125th anniversary, ordinations, Christmas Midnight Mass, Thanksgiving and Marian day ceremonies. As diocesan communications director for 16 years, he arranged and publicized the religious broadcasting of the 10 AM-FM radio stations, of 12 cable television stations and the two television stations in the diocese.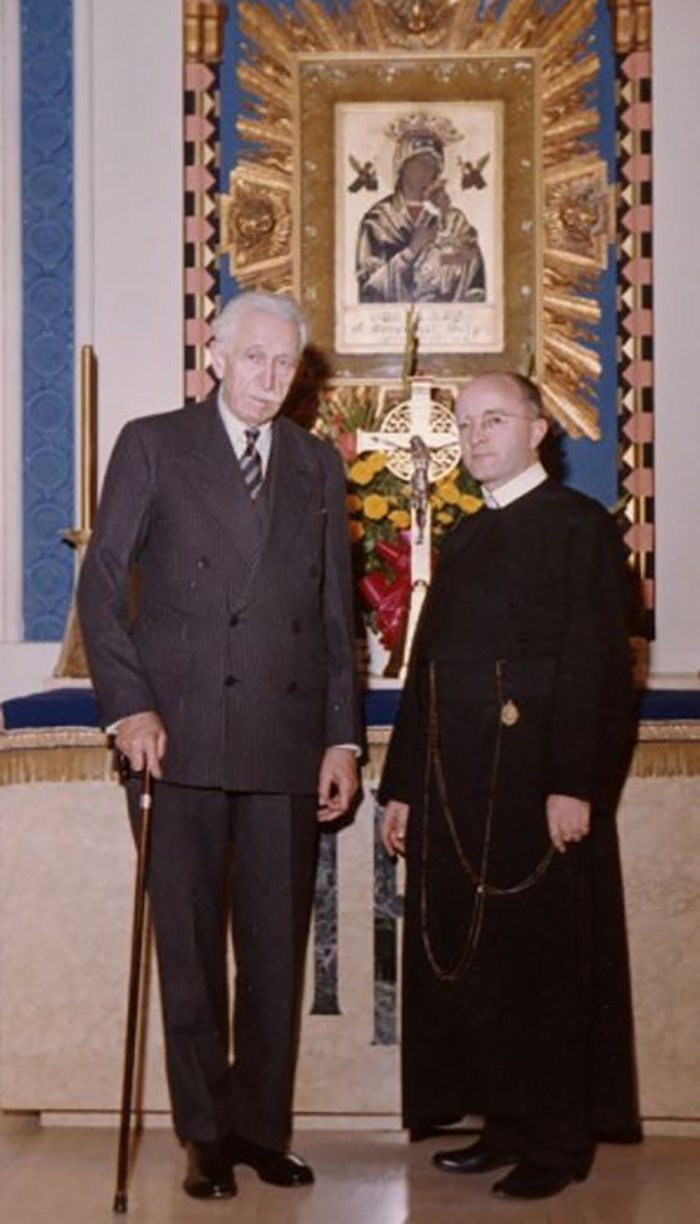 As cable television spread throughout North America, Fr. Meehan maximized his exposure by delivering programs via satellite. By 1985, many of Meehan's CHCH series was telecasted in the U.S. on the Eternal Word Television Network (EWTN), the cable network founded by Mother Angelica in 1981. At the same time, he also undertook special papal and synod assignments.  The weekly programs ended 1992 when Fr. Meehan retired from broadcasting at the age of 79.
Out of the studio and the television lights, he was a sought-after preacher of missions in parishes and retreats for priests and religious. He led Marriage Encounter and Retrouville weekends and retreats for Courage, a support group for Catholic homosexuals in 1986-1990 and wrote for the local magazine. Serving as a religious advisor to the Catholic Register, Fr. Meehan also contributed columns for more than a decade, ending in 1992.  In one column, he wrote a commentary on the weekly Sunday scripture reading and in the other column, Question Box, he answered questions about liturgy, practices, and history.
For the Redemptorists, he served as a consultant to Generalate in Rome and other CSsR communications centers on special events, such as St. John Neumann's canonization, the beatification of Peter Donders and the bicentenary celebrations of St. Alphonsus. He organized pastoral Institutes on catechetics as well as an annual institute for parish priests and all preachers. Not only was he the Catholic Chaplain to the Toronto Blue Jays baseball team,  but also he submitted the winning name of "Skydome" to the team's new domed stadium in 1989.
Fr. Meehan died on July 26, 1998, at the age of 85. In 2011, his media records documenting his broadcasting and newspaper career, including scripts, videotapes, and correspondence, were donated to the Archives of Ontario, which deemed him a pioneer in religious broadcasting in Ontario.
 Courtesy to M. C. Havey, the archivist of Edmonton-Toronto Redemptorists.