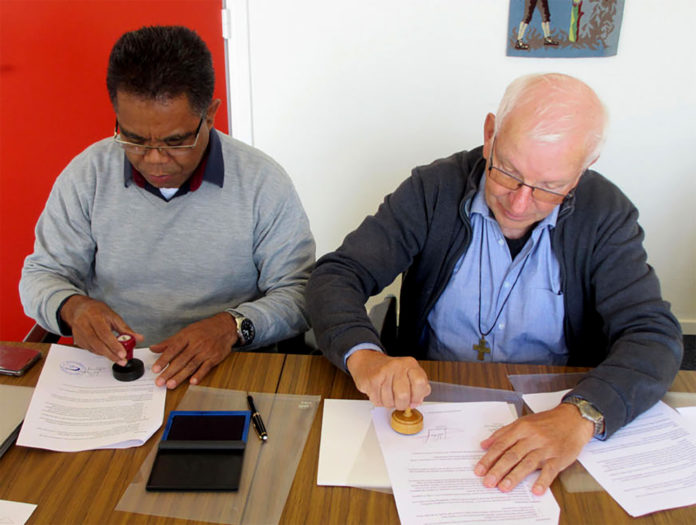 (Wittem) After many years of successful cooperation between the provinces of Indonesia and St. Clement, in recent years new ways of cooperation between the two provinces were explored. Now, both provincials, Fr. Kimy Ndelo and Fr. Jan Hafmans, signed on 27 September 2018 in Wittem (see of the Province St. Clement) a Memorandum of Understanding for future cooperation between the two provinces. 'for the sake of the Mission of the Congregation'. We are convinced that this important cooperation will bring many good results in the future.
In the introduction to the agreement it says: "The cooperation of the provinces of Indonesia and St. Clement regards the pastoral work of the Province of St. Clement, within the framework of the priorities, as they have been formulated by the provincial chapters, and of the pastoral plan of the conference of Europe. Moreover, the confreres from Indonesia are invited to develop missionary plans and projects for the countries of the Province of St. Clement, on the base of a process of common discernment, mutual consultation and deliberation."
The Memorandum also states that "the cooperation between sister-partner-communities is welcomed and promoted, and should be approved by the provincial government."
The document addresses the issue of introduction and formation of candidates to work in the province of St. Clements: "At the end of the formation process a decision is taken for a placement for eight to ten years in the
Province of st. Clement. During this time, the membership of the confrere is automatically transferred to the Province of St. Clement. A placement is also possible without transferring the confrere."
The document states further: "During the time of the placement, the confrere is a full member of the Province of St. Clement with all rights and duties under the condition that he waives his voting rights in the province of Indonesia during this time. Only the confrere can take this decision and is free to do so or not. (…) The confreres keep their right to return to the Indonesian province."
Both Provinces see the Memorandum, which remains valid until 2023, as a useful basis for further cooperation. As a compensation for the personal resources made available by the Province of Indonesia, the Province of St. Clement gives an annual contribution for the promotion of pastoral work and formation in Indonesia.
The province of Indonesia is one of the fast-growing units in the Congregation. The province has dozens of members in several countries. At the moment, in the province of St. Clement four Indonesian confreres are working or in formation.
Jelle Wind