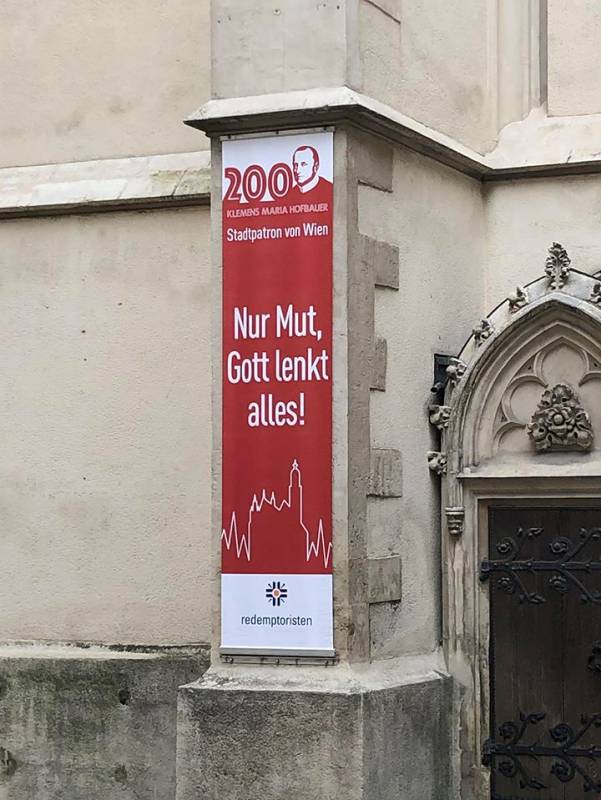 (Vienna, Austria) Next week, on March 15, the 200th anniversary of the death of St. Clement Maria Hofbauer will be celebrated. Our church in Vienna, Maria am Gestade, where the great Redemptorist and patron saint of Vienna is buried, is getting ready.
With the sentence "Nur Mut, Gott lenkt alles" – (Have Courage, God directs everything!) St. Clement consoled many people.
Fr. Dominic O'Toole C.Ss.R.
---
On 15th March 2020, we Redemptorists will remember the 200th anniversary of the Death of St Clement Maria Hofbauer. The great Apostle of Warsaw and Vienna, who we venerate as our 'second founder' was a great Missioner who made, not just for Redemptorists, but to the whole Church important contributions to the Spiritual Life, but above all for the work of Evangelisation. He is also an Intercessor for the challenging process of change in our Congregation.
Vienna-Munich Province prepared a weekend of celebrations.  Fr General Michael Brehl and other members of the General Government will take part.
March 13, on Friday evening we will celebrate Vespers in St Ursula's Church, where St Clement worked in his final years.
March 14, on Saturday we'll travel to places associated with his early years. In Klosterbruck, near Znaim in the Czech Republic, the Archbishop of Vienna, Cardinal Christoph Schönborn will celebrate Mass with us.
March 15, on Sunday morning, a procession from Maria am Gestade to St Stephan's Cathedral is planned, Fr Johannes Römelt will preside at Mass, and Fr General will preach.
Between the various items in the program, there will many opportunities to meet members of our Redemptorist family and to get to know more about St Clement.