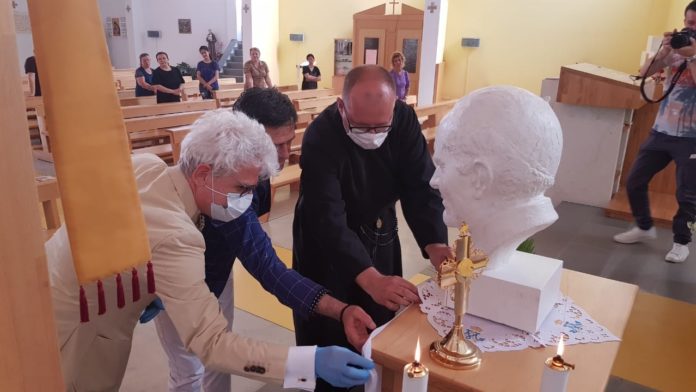 On April 18, the sculpture of St. John Paul II was introduced to the church in Bathore, Albania, to mark Pope's 100th birth anniversary. The sculpture of the head of St. John Paul II, made by artist Mumtas Dhrami, was donated by the Embassy of the Republic of Poland in Tirana. At the ceremony of the presentation of the sculpture in the church, there were present Karol Bachura, Ambassador, and Rakip Suli, Mayor of Kamëz.
In his commemorative speech, the Ambassador emphasized the great concern of John Paul II for the respect of human dignity in every area of social, cultural, economic, and political activity. It is a foundation for a correct understanding of dialogue, solidarity, freedom, and justice. The Ambassador also thanked all those involved in the fight against the coronavirus epidemic.
The church of Bathore, where we Redemptorists minister, is the first church in the world dedicated to St. John Paul II just 6 days after his canonization which was celebrated on April 27, 2014.
The Redemptorists started their pastoral ministry in Albania in September 2014 on the invitation of the Archbishop of Tirana. The international community was founded as a fruit of the missionary initiative of the Redemptorist Conference of Europa.
Fr. Andrzej Michoń C.Ss.R.