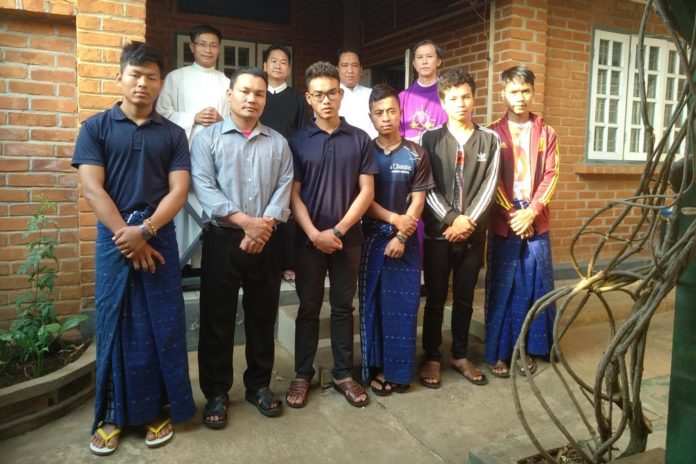 (Mandalay, Myanmar) The Redemptorist Missionaries in Myanmar conducted the Come and See program amid the Covid-19 pandemic. This transpired in the Redemptorist Mission Community in Pyin Oo Lwin, Mandalay from March 27 to June 2, 2020. This is the fourth batch.
The program was participated in by six young people. One participant finished his university, one is in the first-year college, and four just finished their matriculation examination. They have experienced the different meaningful activities that were designed to facilitate the holistic events that helped them gain and appreciate the religious and community life like attending the daily mass, meditation, devotional prayers, and the Liturgy of the Hours. The culmination of the above significant activities provided the participants with the religious life of the Redemptorist missionary vocation. They were also made to immerse in the nature of doing the house chores, making them involved actively in the daily routine like cleaning, washing, cooking, and gardening. English classes were conducted to help them hone their English, an international language that is needed to communicate. Special talks about the vocation and other pertinent needs were provided. Part of the plan was to let the participants join and observe the Sunday masses in different parishes in the city but because of the lockdown, it was discontinued.
The scheduled duration of the program was extended to ten weeks because of the lockdown, where participants were unable to travel due to the restrictions of mobility, as declared by the government. The community housed and accommodated their needs. They instead continued the journey of learning more than expected. The lockdown may have brought discomfort to our young visitors but found the overstay more of consolation because the reception afforded to them was overwhelming and gratifying.
After the extension, one decided to start his aspirancy. The other one remained until the result of his examination comes, and the other four decided to continue their studies.
Bro. Dennis (Cebu Province)