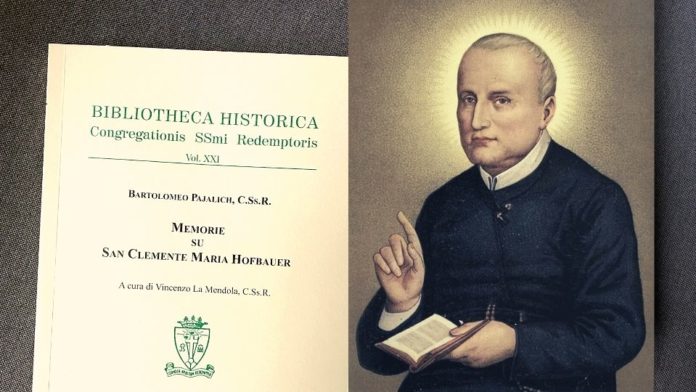 The series of the "Bibliotheca Historica" of the Congregation of the Redemptorists have been enriched by another recently published volume: Memorie su San Clemente Maria Hofbauer. The author of the study is Fr. Bartolomeo Pajalich, C.Ss.R., who edited it 38 years after the death of the then Servant of God, now a saint. The current publication was prepared for publishing by Fr. Vincenzo La Mendola, C.Ss.R.
Why is it worth to recall the figure of this Redemptorist saint? The answer gives Fr. Michael Brehl C.Ss.R., Superior General, in the presentation of the book:
We are protagonists of an age rich in stimuli and possibilities but also pervaded by great uncertainties and remarkable phenomena that risk endangering the nature and dignity of the human being. […] 
In fact, we are challenged to embark on a journey that will lead us to a conversion of views, of mentality, of habits and lifestyles and pastoral approach. These sudden changes that take place before our eyes often leave us disoriented to the point of asking ourselves: where will this process of change, so articulated and so radical, take us?
This is the question that introduces us to the experience of Saint Clement Maria Hofbauer, a Redemptorist missionary on the frontier, a man open to the most unexpected changes and capable of adapting to the most diverse human, cultural and ecclesial contexts. He is a man attentive to the inspirations of the Spirit, ready to grasp "the signs of the times", always in search of new ways to proclaim the Gospel.
This volume of the "Bibliotheca Historica" is one of the initiatives of the Historical Institute for the celebration of the Jubilee Year, announced on the occasion of the 200th anniversary of the death of St. Clement Hofbauer.
– A new piece has been added to the complex web of sources on the life of St. Clement Maria Hofbauer. The edition of the manuscript by Fr. Bartolomeo Pajalich marks an important step in the knowledge of the Redemptorist saint. The present edition is the first complete edition of the text, studied in all its details and angles – writes Father Adam Owczarski, C.S.R., director of the Historical Institute, in the introduction to the book.