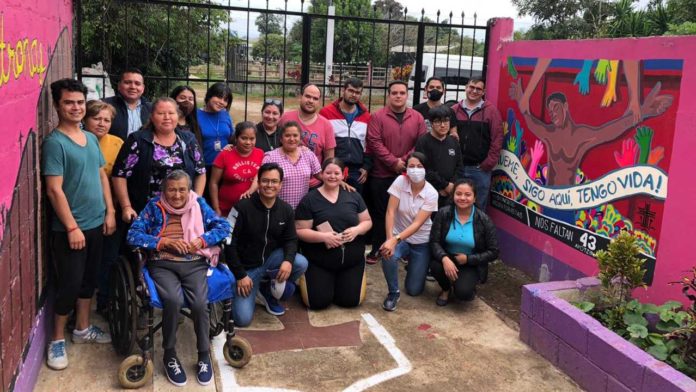 (From 19 to 21 December 2021, in Veracruz City, Mexico)
One of the experiences that most marked us, those of us who lived this volunteering, was undoubtedly love. We can live this every day: with our loved ones, friends, family. Loving them, perhaps, is not so difficult; after all, they are the ones with whom we have decided to share time and life. But how can you love someone you don't know?
The Patronas are a group of volunteers from the community of Guadalupe la Patrona, municipality of Amatlán de los Reyes, Veracruz. They have given time and life in order to help Central American migrants who travel to the United States in search of better opportunities. These volunteers provide them with food while they ride the moving train. They have also been giving temporary asylum and medical assistance to those who need it, for 25 years.
It is the Patrons who have answered the question raised above during these three days. Since they started, they have decided not to be indifferent to the pain of others, the human pain, pain that is ours too and that we have in front of us every day.
The Patrons showed the volunteers the courage to fight for respect for the dignity of the life of every human being, regardless of race, origin, religion or condition.
Seeing them and listening to their testimonies, we were left reflecting deeply on the importance of taking action for the other. For, even if we believe that we cannot do much or that the problems of this world are bigger than our hands, our strength or our drive, the truth is that it is only necessary to decide to serve and not be served in order to change the world. From them we have learned that no matter how insignificant our actions may seem, they can be decisive in helping to improve someone's life.
We are left with the example of courage, love, perseverance and humility given to us by the Patrons. We also have the desire, the desire and the conviction to give more of ourselves, to be professionals committed to others, to make our skills, knowledge and abilities available to those most in need.
We greet you from Mexico the team of the Volunteers: Ana Laura Romo, Lizeth de la Rosa, Miriam Alice Solís, Samantha Esteban, José Alberto Romo, Emmanuel García, Abel Ríos, Gabriela Pérez, D. Carlos Guadalupe Jiménez CSsR, H. Jesús Roberto Ávalos CSsR, P. Jonathan Muñoz, CSsR.
Agustín Cantú Drauaillet