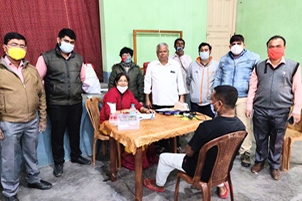 (India) A Diabetes Medical Camp was organized on February 7th, 2021 under the guidance and supervision of Dr. Mary DCruz at St. Thomas Church, Taherpur, District Nadia.
The great initiative was taken 2 months ago i.e., in December 2020, by Fr. Babu Haldar, the Parish Priest. He started to make announcements about the camp amongst the parishioners and the local villagers. Interested people started to enroll their names and 48 out of 50 registered patients took part in the camp and came for their health check-ups.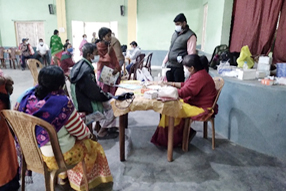 Covid-19 guidelines were strictly followed by all the medical team-members and patients as well. The medical team-members organized their respective table in 6 feet gap while wearing masks, gloves; maintained hygiene by using hand sanitizer, and kept safe distances between people during the entire camp.
The sitting arrangements for the patients were also done keeping safe distances under the management of Fr. Babu. The camp began at 9.00 am. All the patients reached on time and waited with patience for their turn. Following were the tests done in the camp;
Random Blood Sugar (RBS)– to check blood sugar level randomly at any point of time and the normal range is between 100-140 mg/dl.
Blood Pressure (BP)– to check if the patient is hypertensive (having high BP) or not, the normal range is 120-140 systolic, 80-90 diastolic.
Hba1c (Glycosylated Haemoglobin) – to check 3 months' average blood sugar, ideally, it should be below 7%.
Neuropathy– to check the nerve condition in feet.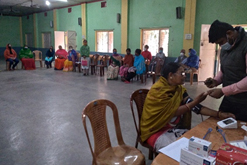 Dr. Mary DCruz examined all the patients with care once all the necessary tests were done for the individual patients. Medical advice was given along with tips on a healthy diet and lifestyle management by the doctor. Medicines were distributed free of cost as per requirements. Hard files were also distributed amongst all the patients to carry their respective prescriptions, diet charts, and neuropathy reports.
The camp ended at 2 pm. The team-members of Dr. Mary DCruz included-
Mr. Amit Choudhury, Mr. Arghya Kamal Mitra, Mr. Debashis Das, Mr. Prasenjit Das, Mr. Premangshu Chakraborty, and Ms. Kakoli Datta.
The data collected from the camp showed the following outcome-
Total screened=48, Female=28 (58%), Male= 20 (42%)
Total Hypertensive= 44 (92%), Female=24 (86%), Male= 20 (100%)
Total Diabetics= 24, Female=14 (50%), Male= 10 (50%)
Hba1c Data-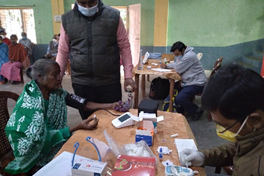 Good Control= 8 (33%) of Hba1c <7%.
Poor Controlled= 16 (67%) of Hba1c >7%.
Fr. Pradeep, CSSR Supervisor, and Fr. Babu Haldar, Parish Priest, have done a great service to the parishioners who had no access to medical help during the Corona pandemic. It is evident there is great stress as 100% of the males examined had very high blood pressure due to job loss and financial insecurity.
Suggestions
It is recommended that a few women, who are at least 10th class passed, be trained to take
Blood Pressure,
Blood Sugar by Glucometer and
Waist measurement to assess obesity.
This training can be conducted in Kolkata at Fatima Church preferable on Sunday.
Fr. Pradeep Mondal, CSsR.