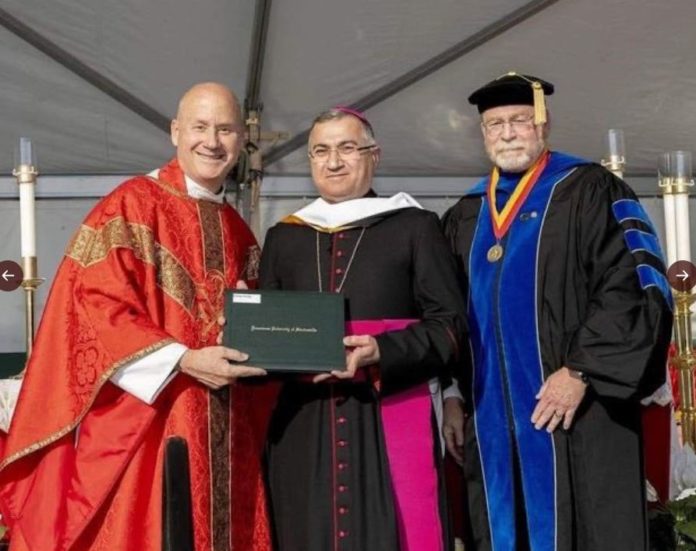 At the Franciscan University of Steubenville, Ohio, USA, on Friday, May 14, at 6:00 p.m. the Baccalaureate Mass was presided by Archbishop Bashar Matti Warda, CSsR, the Chaldean archbishop of Erbil, Iraq. He preside and give the homily at the Baccalaureate Mass and receive an honorary doctorate of humane letters for his dedication to preaching the Gospel and nourishing the faith amid the heightened persecution, terrorism, and unrest in Iraq in recent decades.
Born in Baghdad, he was ordained a priest in 1993 and was consecrated as archbishop of Erbil in 2010.
Archbishop Warda helped provide aid to Christians who fled to the relative safety of Erbil, in Northern Iraq, prior to the defeat of ISIS in 2017. In 2015, he founded the Catholic University of Erbil, the country's only Catholic university.
In 2019, Archbishop Warda and Father Dave Pivonka, TOR, Franciscan University of Steubenville president, signed a memorandum of understanding that paved the way for increased cultural exchanges and programs between the Catholic University of Erbil and Franciscan University.
(franciscan.edu)
"I am so grateful to receive this honor on behalf of all the brother bishops, priests, sisters and our wonderful lay people who have worked together to makes this recognition possible. Leaders together.", writes Mons. Warda on his Twitter account.