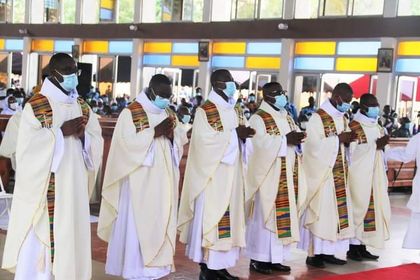 The seed of the Redemptorist Mission sowed in Ghana continues to bear fruits; thanks to the availability of dynamic young men whose vocation in the Congregation of the Most Holy Redeemer is greatly supported by the motherly intercession of Mary, our Perpetual Help.
It was therefore a feeling of joy and gratitude for the Redemptorist Mission of Ghana to celebrate the priestly ordination and first Thanksgiving Mass of their confrere, Rev. Fr. Eugene Kodzo Adzaklu, C.Ss.R., coinciding with the days of climax of the Marian Month of the Holy Rosary.
In the company of five other ordinandi for the local Church of Ho, Fr. Adzaklu was ordained by Most Rev. Emmanuel Kofi Fianu, S.V.D., Bishop of the Catholic Diocese of Ho on 30th October, 2021 at the St. Francis of Assisi Catholic Church, Ho-Kpevele.
The ordination Mass was well attended by several religious and lay people including family members and friends of the ordinandi; and concelebrated by Most Rev. Anthony Adanuty, Bishop Emeritus of the Catholic Diocese of Keta-Akatsi, and several priests including Rev. Fr. Christian Ewoenam Klu, C.Ss.R., the Superior of the Redemptorist Mission of Ghana.
In his homily, the ordaining prelate admonished the new priests including Fr. Adzaklu to strive with prayer and exemplary deeds to be good models of the Gospel of Christ and not just teachers in their ministry and service to the people of God.
In the evening after the ordination, Fr. Eugene Kodzo Adzaklu, C.Ss.R, was given a heartwarming welcome and reception in a procession through the principal streets of Hohoe where on the following day, 31st October, 2021, he presided over his First Thanksgiving Mass at the Holy Rosary Catholic Church in the joyful assembly of his Redemptorist confreres, some diocesan priests, religious sisters, parents, family members and friends among other people of goodwill.
He also ceased the opportunity to thank the various individuals and communities who supported his initial formation journey in diverse ways. For his ministry journey ahead, he sought the continuous prayers and renewed support for him to be a Redemptorist priest after God's own heart and an instrument of Christ the Redeemer's peace.
By the Communication Crew.CSsR_Gh.