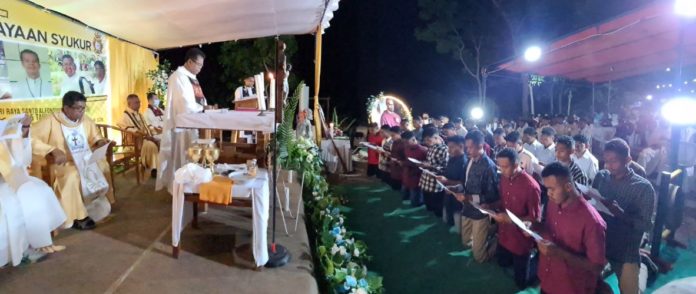 The celebration of the feast of our founder, Saint Alphonsus de Liguori, on August 1, 2022 in Sumba, Indonesia was marked by the celebration of a silver jubilee and the acceptance of a postulant.  The celebration in Sumba was held at the community house of the redemptorist in Pada Dita which was attended by confreres, family and friends of the redemptorist.
The confreres who celebrate the silver jubilee of religious life are Fr. Bartholomew Farano Loja Nedi CSsR and Fr. Kosmas Damianus Moa CSR. On the same occasion also celebrated 25 years jubilee of the priestly life of Fr. Mikhael Molan Keraf CSR and Fr. Bartholomeus Otu Kelen CSsR.
In their reflection, the Jubilees invite all of us to be grateful together for the grace of the 25 years that have passed. The Journey experience of 25 years as religious and priest is not a comfort zone experience. But on the other hand, missionary journeys always challenge us to get out of our comfort zone for the salvation of souls, as our founding father intended.
This joyfulness is even greater with the acceptance of 27 young people who start their Postulancy period in the 2022/2023 period. They come from Sumba, Flores, Lembata and Kalimantan. Our candidates will take their education for one year at Pada Dita accompanied by Fr. David Bayo CSsR with his staff. Let us pray for them always.
The Eucharistic celebration of the feast of Saint Alphonsus was presided over by Fr. Kimy, Provincial of Indonesia. The whole series of joyful events together ended with party together.
Willy CSSR