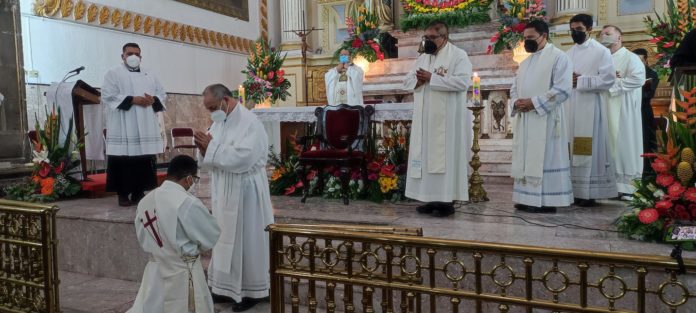 On Saturday 13 August 2022, the deacon Lucerito Gutiérrez Rosas received the priestly order by the imposition of the hands of Archbishop Victor Sánchez Espinoza of Puebla.
Lucerito was born on May 3, 1992 in the community of San Juan Calmeca, in the state of Puebla. He is the seventh of ten brothers. He entered the Congregation in August 2014. On February 18 of this year he made his perpetual vows as a Redemptorist missionary.
The Eucharistic celebration of priestly ordination took place in the community of Puebla, in the Church of the Most Holy Trinity, which is cared for by the Congregation of the Most Holy Redeemer. Present were some fathers of the Congregation, the formative communities of the Juniorate and the Novitiate of the North American Conference, some sisters of the Order of the Most Holy Redeemer, family and friends of the new priest.
We continue to pray for Redemptorist vocations and may our Mother of Perpetual Help bless us all.
P. Agustín Cantú CSsR