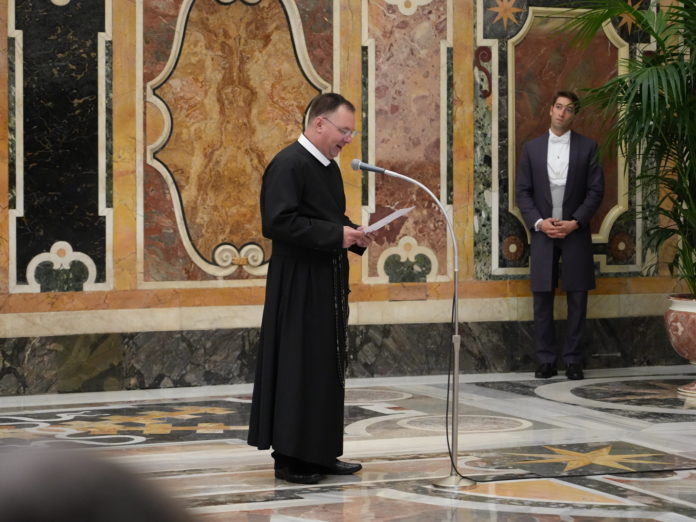 Most Holy Father, Pope Francis,
On behalf of all the participants of our XXVI General Chapter, I thank you from my heart for having welcomed us at the conclusion of our work. I extend a warm greeting to you on behalf of the Redemptorist missionaries present in the world, the lay people who support us and all the congregations which draw inspiration from our charism. We sincerely thank you, Holy Father, for having granted us this fraternal meeting with you which is so important, that it will support our mission going out to the existential peripheries of the world.
Holy Father, as you well know, we are a missionary congregation of priests and brothers, founded on 9th November 1732 by St. Alphonsus Maria de Liguori, Doctor of the Church. With the missionary ardour of Saint Clement Maria Hoffbauer, the Congregation then expanded outside Italy. In 10 years we will celebrate 300 years of our existence. Currently, we are 4617 confreres present in 85 countries around the world. We are organized in 5 conferences: Europe, North America, Latin America and the Caribbean, Asia and Oceania, and Africa and Madagascar.
Our mission is to announce the Gospel to the poorest and most abandoned through multiple pastoral methods and moral theological formation with the Alphonsian Academy. In this XXVI Chapter, in order to respond faithfully to our charism in fidelity to the signs of the times, we reflected on our Redemptorist identity, our mission, our Redemptorist consecrated life, the moral theological proposals we offer, the formation for mission and guidance, and leadership for mission. These days have been a true Pentecost for us and an opportunity to get to know the different faces of our Congregation.
We thank you, Holy Father, for your fruitful teaching and your prophetic word, which encourages us in the various areas of our Mission in faithful service to the Church. Thank you, Holy Father, for your courage in carrying out an ecclesial renewal which has as its core the inclusion and acceptance of all. Your invitation to listen to the cry of the earth and of the poor is for us a warning that guides our mission. Your magisterium and teaching office incessantly stimulates our Redemptorist mission. And for our part, we will do everything to collaborate in your mission as Supreme Pastor and as the first missionary who urges us to leave our comfort zone and to go to the poorest and most abandoned.
For our part, we will continue to accompany your Petrine ministry with prayers to Our Lady of Perpetual Help and to St. Alphonsus. We sincerely ask you for your Apostolic Blessing.
San Pietro, 1st October 2022
Rogério Gomes, C. Ss. R. 
Superior General