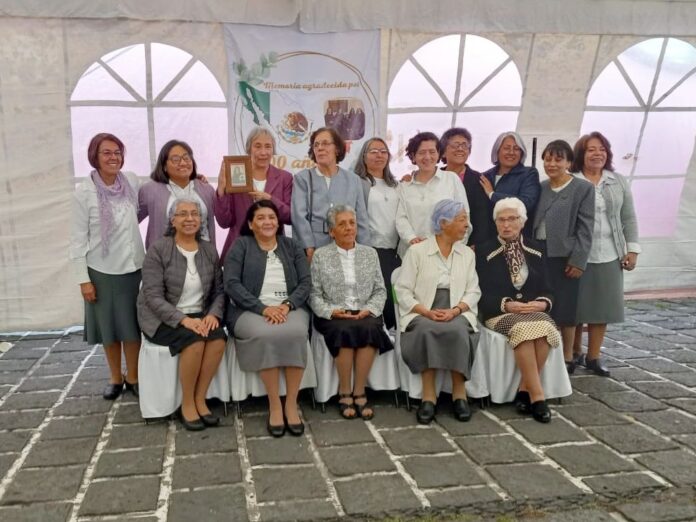 The Oblate Sisters of the Most Holy Redeemer celebrated 100 years of missionary presence in Mexico. On November 21, 2022, the Oblate Family celebrated the anniversary in style with a Mass and festive activities. It showcased the work done over the years as the sisters have walked not only with women in prostitution but also with benefactors and institutions that have joined the project and the charism of the Mother Antonia Center.
With love, they donated their time, effort, and resources… it was reflected in every flower that decorated the parish so that the feast of that day celebrated the journey of the sisters and the core team. "It was a beautiful experience" in which the women shared their joy with the sisters and "which family enjoyed the dancing with smiles and noise", recalls one of the sisters who experienced it.
Mass celebrated by the Cardinal Primate of Mexico
As it could not have been otherwise, the anniversary was celebrated with the Eucharist, in the parish of Santo Tomás, presided over by the Cardinal Primate of Mexico, Carlos Aguiar Retes and his auxiliary bishops, Carlos Enrique Samaniego and Salvador Méndez. Also concelebrating were some priests from the parishes of the VII Deanery, among others, the Episcopal Vicar, Federico Albatch, the coordinator of the deanery, Father Ro Gerardo Almeida and the parish priest of Santo Tomás, Victoriano Martínez Navarro.
We were able to enjoy the participation of sisters from communities in different countries: Guatemala, the Dominican Republic and the United States. We were also honoured by the company of sisters from the community of Ciudad Juárez, benefactors, and alumnae from the schools of Guadalajara, Puebla and Tlalpan, places where there were communities of Oblate Sisters.
Celebration for women
There was also a significant presence of women accompanied by the Mexico City project. Many congratulations also came from the communities of the province, from the Congregation and friends.
The community, together with the volunteers, lay people and the work team of the project "Casa Madre Antonia", prepared with great care this memory of gratitude for the presence and missionary steps of the sisters in Mexico.
The De La Salle student band animated the Eucharist and the celebration. It is worth mentioning the gesture of solidarity of Brother Pedro in providing this musical group free of charge.
The Sisters who live in the community of Mexico: "it was a day marked by gratitude to the God of Life who accompanies the journey of the Congregation in this country and guides, enlightens and encourages the dawning of new centenaries, at the service of the mission, in Mexican lands".
(hermanasoblatas.org)