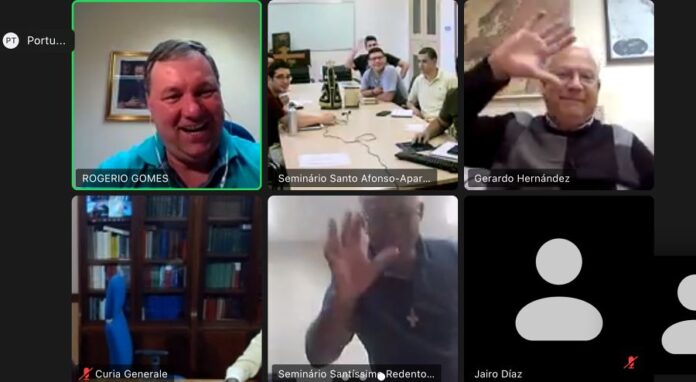 Last Saturday, February 18, Fr. Rogério Gomes, Superior General of the Redemptorist Congregation, accompanied by Fr. Jairo Díaz, General Consultor and Fr. Gerardo Hernández, Chair of the Secretariat of Formation of the Congregation, shared with the young aspirants of the Conference of Latin America and the Caribbean a fraternal message of vocational animation. The meeting gathered about 120 online participants, from (V)Provinces of São Paulo, Recife and Fortaleza, Campo Grande and Porto Alegre, Manaus, Bahia, and Rio de Janeiro from Brazil, and from Colombia, Venezuela and Ecuador, Bolivia and Peru, Haiti, and from Buenos Aires and Resistencia in Argentina.
The meeting began with a creative moment of prayer led by the aspirants of the Province of Sao Paul. Then, the participants had the opportunity to watch and listen to a video prepared by the General Consultors showing the reality of the Congregation in the world, structured in 5 Conferences. Fr. Rogério Gomes encouraged the young people gathered online to get to know and deepen their Redemptorist and missionary life, to become experts in humanity, to cultivate spirituality and integrate it into their own lives, to live the spirit of fraternity, to dedicate themselves to their study, to discover the importance of missionary ministry and to be passionate about the Redemptorist charism to give an account of their vocation.
The message also emphasised aspects of initial formation in the Congregation, whose members are called to live a missionary vocation and faithfully follow the Gospel of Our Lord Jesus Christ. This initial formation, which is the time after admission to the community and before the novitiate and temporary profession, aims to deepen the maturing of the vocation, improve the experience of evangelical life in fraternity, and obtain a better knowledge of the Congregation, living in the community.
It was also explained that formation during this stage is aimed at making the aspirant aware of the community and able to decide to move forward in the formation process. The initial formation for the Congregation is not only a matter of academic training. It aims to develop Redemptorist spirituality as a more profound life experience based on faith and charism. It leads the candidate to commit himself to fulfil the mission given to St. Alphonsus by God. It is a mission to live faithfully and humbly, witnessing God to the world, rebuilding the Church and being enlightened by the joy of love in the Father Himself. Such a formation strives to form a Redemptorist who is committed, mature and prepared to live the richness of fraternal and missionary life.
The meeting was positively evaluated, and a series of online meetings with the other stages of formation in the Congregation is planned.
Scala News