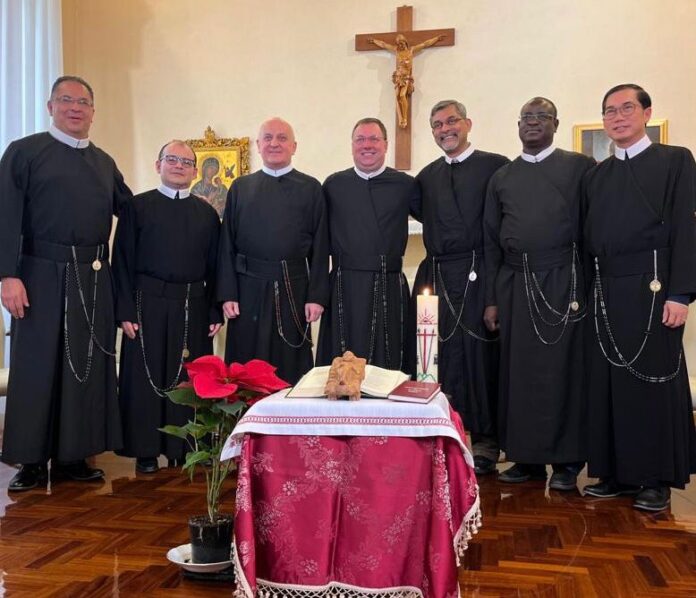 More than a thousand Redemptorists from around the world joined online on the Day for Consecrated Life to experience a moment of shared reflection, prayer and gratitude for the gift of vocation and mission.
During the meeting, Fr. Rogério Gomes addressed a message to all professed confreres, novices, and those just beginning their formation to live the evangelical counsels. The Superior General emphasised that in the context of many divisions in the contemporary world, Redemptorists are called to be a sign of unity and to proclaim redemption with courage and enthusiasm. – You are important for the Congregation, go forward and do not be afraid! Let yourselves be led by the Spirit of the Lord, he encouraged.
Fr. General was accompanied in the meeting by all the members of the General Council. Each of the Consultors also shared words of greeting and encouragement to the confreres who, individually or in groups, attended the meeting.
The General Government of the Congregation organised the meeting in the form of a webinar. It was met with great interest by the confreres who participated in the 'live' broadcast, regardless of the difference in time zones and geographical distance, from Indonesia and Vietnam to Canada and Mexico. The joy and spirit of unity were evident in the greetings, comments and prayer intentions that confreres posted in the chat.
Father General's thanks to the Confreres, Formandees and Candidates
Missionaries of Hope in the footsteps of the Redeemer

Dear Confreres, Formandees and Candidates,
On February 2nd, we held an online meeting with the whole Congregation to celebrate our Redemptorist consecrated life. Although we could not see each other, we formed a missionary body. I have received personally and through the members of the General Council many messages and photos from Redemptorist communities all over the world, in the more than 80 countries where we are present. I apologise for any technical glitches. The platform used was new, and the Scala News team took care to study it so that everyone could access it without problems.
I thank all the confreres, formandi and candidates who participated. Many thanks to the (Vice) Provincial Superiors, Community Superiors, Formators and Vocation Promoters for animating and organising this moment together with the Confreres and Formandees. We are Missionaries of Hope in the footsteps of the Redeemer, a living and dynamic missionary body (cf. Const. 2)!
Thank you all from the bottom of our hearts!
Fr. Rogério Gomes, C.Ss.R.