I joined four others at the 11:00 am Mass at St. Michael's Church recently to commit to another four years as a Redemptorist Associate for the Denver Province. Actually being in Chicago for this ceremony was very important to me for several reasons, but primarily because this was where I met the Redemptorists and experienced their manner of preaching and living their faith. I wanted to be where Fr. Richard Thibodeau, former pastor, first challenged me to get to know my best friend by reading the Bible, specifically the four Gospels.
Fr. Greg May, leader of the Circle, presided at Mass. After the Gospel was proclaimed, Greg Palis, Joe Tully, Bobby Borges, Maria Santana and I stepped forward for the commitment ceremony as Redemptorist Associates. We shared our individual plans to live our baptismal call by dedicating ourselves to follow in the footsteps of Jesus the Redeemer by bringing hope to our world.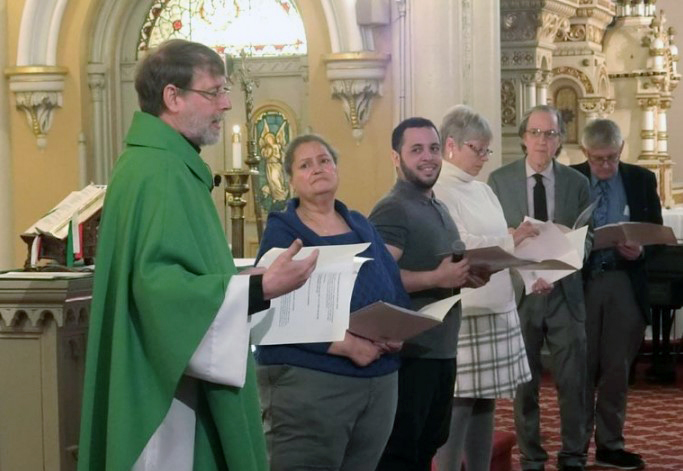 We read a prayer together, stating our desires to support the Redemptorists in their mission and to be supported by them. Fr. Greg received our requests and presented each of us with a cross, and we shared our specific written goals to honor the plan to follow in Jesus the Redeemer's footsteps.
As I stood next to my fellow Redemptorist Associates, I felt emotions I did not expect: I felt humbled and thankful. These are just a few of my fellow journeymen I have traveled with spiritually during the past four years. As February 19 was the last Sunday in Ordinary Time, I was already considering what my focus would be during the Season of Lent. As I received my cross from Fr. Greg, everything fell into place perfectly: prayer and service.
I was full of joy to be back at St. Michael's, thankful for reuniting with the Redemptorist community, and excited to share my commitment with the parishioners. I hope our example and presence inspires others to join us.
Toni Dunning
Redemptorist Associate
Virtual Circle Commitment Ceremony
We made our commitments as Redemptorist Associates with the Denver Province in a virtual ceremony on February 19. The commitment ceremony opened with the song Redeemed by Influence Music and Matt Gilman, followed by the Old Testament reading Micah 6:6-8, the responsorial Psalm 130, and the Gospel reading Matthew 25:31-40. After a brief reflection by Fr. Greg May, each Associate made their individual commitment for this quadrennium as part of St. Michael's Redemptorist Virtual Circle. Three others – Karen Blanchard, Jim Mascolo and Kevin McLane – also made their initial commitments. Chris McCosh renewed his commitment as an Associate, and Julie Worch renewed her commitment as a Lay Missionary of the Most Holy Redeemer. Fr. Greg received us as Redemptorist Partners in Mission, and the ceremony closed with a beautiful sung version of the Our Father, known as The Millennium Prayer, by Cliff Richard. Overall, it was a beautiful commitment ceremony, so well put together and designed to be a meaningful and memorable liturgical experience with the chosen music, scriptures, and prayers.
Even though the commitment ceremony was virtual, we had a sense of meaningfully being present and were aware of the presence of others. We shared a special sacred moment together in prayer and belonging to a community, and we felt a joyful sense of being received into our spiritual family, our spiritual home.
The core principles and values of Alphonsian spirituality have imbued and animated our understanding and practice of Christian discipleship. As married laypersons living our lives predominantly in the secular world, Alphonsian spirituality has been our lodestar as we try to concretely apply its principles and values in our various activities and everyday life.
Now that we are connected to a vibrant group of Redemptorist Associates, we look forward to deepening our understanding of Alphonsian spirituality, fostering stronger bonds and true Gospel friendship with other members of the Redemptorist family, and using our talents and gifts to actively serve, participate in, and contribute to the Redemptorist mission.
Francisco & Lucille Otero
Redemptorist Associates