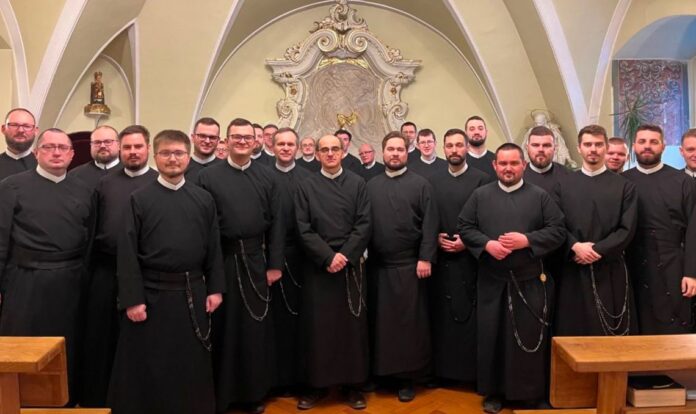 The annual meeting of Redemptorists involved in pastoral work with children and young people took place in Bardo, Lower Silesia, from 11 to 14 April 2023. Twenty-eight fathers and deacons came from our parishes in Poland and Belarus. They work in catechesis, with altar servers, minister for parish groups, students and are involved in other form of pastoral ministry.
The participants met with prof. Kaja Kazmierska from Łódź, who is involved in research on the current social situation as a challenge for the Church and the New Evangelisation, and with Ms Adriana Kwiatkowska from Wrocław, as part of a workshop on 'The pastor as the most important tool in work with contemporary youth'.
The leaders of the community of "Jonathan's Companions" from Wrocław together with Rev Wojciech Jaśkiewicz arrived to present their contribution as an example of commitment to the pastoral ministry of children and young people in the spirit of the exhortation "Christus vivit". There was also a meeting with the Provincial Superior, Fr Dariusz Paszyński CSsR.
With the participants met Fr. Dariusz Paszynsi CSsR, superior of Warsaw Province. There was also a discussion about the situation of our pastoral ministries and upcoming events and initiatives: a football tournament for altar boys, summer and vocation retreats for young peple, preparations for the trip to the World Youth Day in Lisbon and the Redemptorist Youth Day in Tuchow.
Fr. Mariusz Mazurkiewicz CSsR