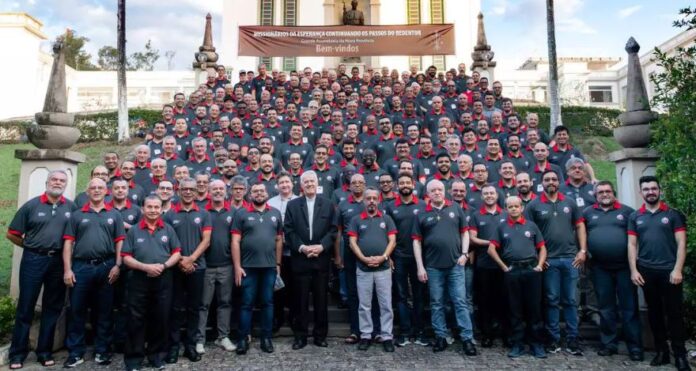 On May 22, the Assembly began with the three Redemptorist Units in Brazil that will merge: São Paulo, Rio de Janeiro and Bahia. The meeting, which will end on May 26, is being held at the Redemptorist St. Alphonsus Seminary in Aparecida (SP) and counts 214 participants, including six lay people.
This true process of communion aims to present a synthesis of the work done by the sub-commissions in view of the new Province, which will be inaugurated on November 9, 2023. The Assembly of Aparecida will also be fundamental to choosing the name of the future Province.
From what we know from the Redemptorist portal a12.com, one of those responsible for the organization of the event, Brother Marco Lucas, C.Ss.R, highlighted the dynamics of the restructuring process in connection with the fidelity to the mission entrusted to the Congregation of the Most Holy Redeemer:
"For some years now, the Redemptorist Congregation has been reflecting on the process of Reconfiguration of the (Vice)Provinces present throughout the world. It is necessary in a society marked by increasingly complex changes and needs. Therefore, the restructuring is important since it aims not only to save the structures of the Units but also to strengthen the mission entrusted to the Congregation of the Most Holy Redeemer in the proclamation of the Gospel of Jesus. For the Units of São Paulo, Rio-Minas-Espírito Santo and Bahia, the meeting will be characterized by moments of reflection, exchange and important decisions to continue the creation of the new Redemptorist Province that will operate in these regions".
The Redemptorist Brother also highlighted the process of organization of the Assembly:
"The Provincial Government of the Redemptorist Units of São Paulo, Rio-Minas-Espírito Santo and Bahia has indicated some confreres to collaborate in the organization of the Provincial Assembly. This select team was in charge of organizing the whole event, allowing all the invited Redemptorists and lay people to get to know each other and to give some indications, which will favour the process of Reconfiguration of the Units".
After the Assembly, between the end of May and the beginning of June, the scrutiny for the election of the Provincial Superior will take place. Each (Vice) Province, through an individual vote, can nominate up to five candidates for the office. The scrutiny will take place on June 6, and 15 days after communicating the result of the vote, a first presentation of the ballot will be made.
(Scala News/a12.com)