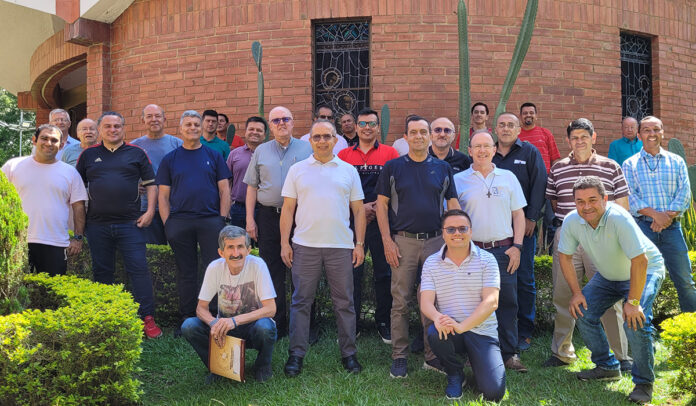 In a spirit of fraternity and recollection, the Redemptorists of the Province of Bogota together with some confreres of the Vice-Province of Caracas, have lived our spiritual retreats 2023 under the motto of the sexennium, "Missionaries of Hope in the footsteps of the Redeemer".
The retreats were preached in three batches by Father Pedro Lopez, who belongs to the Province of Madrid and who is currently working in Porto, Portugal. Fr. Pedro, with his vast experience in the Congregation and his spirit of fraternity, animated the spaces for each confrere to rekindle his vocational and missionary spirit.
The theme, centered on the Redemptorist life, focused each day on a motivating proposal: Monday: Setting out on the journey; Tuesday: Redemptorist Identity; Wednesday: Redemptorist Mission; Thursday: Our Redemptorist Consecrated Life; Friday: The Redemptorist Community; Saturday: Journey in hope together with Mary. There were spaces for prayer, the celebration of the Eucharist, confessions, sports, and other activities that enlivened the fraternity.
In terms of dates and places, the first two batches of retreats were held from May 1 to 6 and from 8 to 13 at the Villa Marianella Retreat House in Chinauta, a town approximately two hours from Bogota. The third batch was held from May 15-2 at the San Alphonsus Seminary in Piedecuesta, Santander, with the participation of the confreres who live in the Msgr. Mantilla Duarte Clinical House and the novices who make up one of three novitiates of the Conference of Latin America and the Caribbean.
We thank God for this valuable opportunity to revitalize our spiritual life; Fr. Pedro Lopez for his availability, experience, and closeness to each confrere; the Provincial Government for providing these spaces; the communities of Villa Marianella and Piedecuesta for their generosity in the preparation and disposition for these retreats; and each confrere for giving his time for our spirituality and mission.
Fr. Óscar David Tarazona Trujillo C.Ss.R.