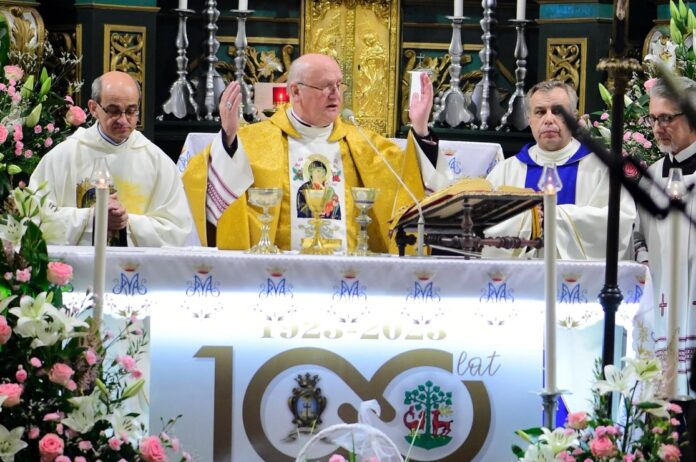 The Holy Cross Church in Braniewo hosted the jubilee celebration of 100 years of Redemptorists' presence in Warmia on 27 June 2023. On the occasion of the feast of Our Lady of Perpetual Help, the main celebrations of 100 years of ministry of the fathers and brothers of the Congregation of the Most Holy Redeemer took place in Braniewo, who arrived in Warmia in 1923 and settled in the Shrine of the Holy Cross in Braniewo.
A scientific conference was held in April to present the circumstances and events following the arrival of the Redemptorists in Warmia. The whole congregation experienced a climax of the event with a solemn celebration of the Holy Mass. It was delightful to see so many faithful, and priests gathered in the Church of the Holy Cross to give thanks to God for the years of ministry of the fathers and brothers. The work of the Redemptorists is an important spiritual contribution to the life of Braniewo and the whole archdiocese. Today each institute has a charism. For centuries, Redemptorists have undertaken so-called popular missions, reaching the faithful where they were, in the place of their daily life, to proclaim Christ the Redeemer. With them was born the cult of Our Mother of Perpetual Help.
Father Grzegorz Lachowicz CSsR, superior of the community of Braniewo, greeted the priests and faithful. "We thank the Lord God for this place's hundred years of pastoral work. Before the war, our confreres from the Province of Cologne worked there and, after the war, our confreres from the Province of Warsaw. They undertook missionary work in Braniewo in several surrounding parishes that were without priests. We are grateful for the years of formation in the novitiate of Braniewo, from which about two hundred novices have passed," said Fr. Lachowicz.
The homily was given by Fr. Dariusz Paszyński CSsR, Superior of the Warsaw Province of the Redemptorists. After the Mass, Archbishop Józef Górzyński blessed a memorial plaque and planted a memorial oak.
A feast was held in the monastery garden, with a concert by the Pospieszalski family.
Source: www.olsztyn.gosc.pl