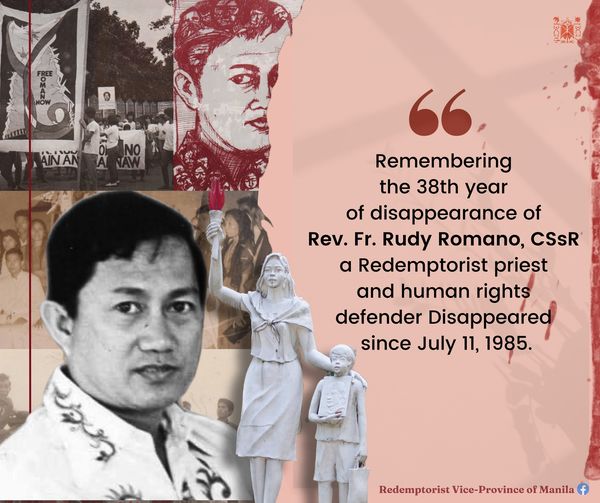 The Redemptorist Vice-Province of Manila posted on Facebook:
Today (July 11), we commemorate the 38th anniversary of the disappearance of Rev. Fr. Rudy Romano, CSsR, a Redemptorist priest who fought for human rights during martial law. Fr. Romano worked closely with the poor and openly spoke against the injustices during those dark moments in our country. Like Fr. Romano, may we have the zeal and courage to uphold human rights, especially for the poor and marginalized.
An influential group of communications in the Philippines (www.philstar.com/the-freeman) writes in The Editorial:
Fr. Rudy Romano who was abducted in Barangay Tisa, Cebu City, allegedly by members of the military.
He was never seen again and is now presumed long dead…
Also, on Twitter, we read a post from the Oficial Student Publication of University of Cebu:
ICYMI: Remembering the 38th year since the abduction of Fr. Rudy Romano and Levi Ybañez, Project Gunita, an academic and research organization that archives works from martial law, and Redemptorist Church members commemorated the happening on July 11, 2023.
You can read more about Rudy Romano here: Rudy Romano, CSsR, gave his life for the ransom of many…