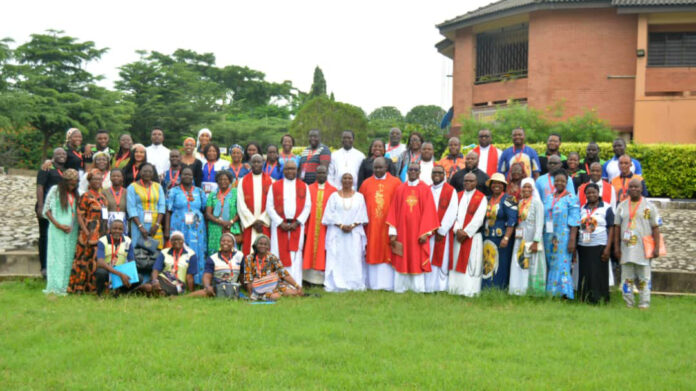 Theme: Together in Mission
For the First Time in the History of the Conference of Africa and Madagascar, Redemptorist Lay Partners from the various Units of COREAM gathered at the Conference level in the Vice-Province of Nigeria from 28th July to 2nd August 2023. The Conference had 10 delegates from the Vice-Province of Afrique de l'Ouest, 2 delegates from the Vice-Province of Matadi, 3 delegates from the Region of Zimbabwe,1 delegate from the Mission of Kenya, and 50 delegates from the Host Vice-Province of Nigeria. At the Opening Ceremony, delegates listened to the beautiful Video Message of the Superior General, Very Rev. Fr. Rogerio Gomes. He appreciated the Lay Partners for their availability for the work of the Mission and called them to be true Missionaries in the footsteps of the Redeemer. 
During the Opening Mass, the Chief Celebrant, the COREAM Coordinator, Rev. Fr. Noel Sottima, reminded the delegates of the Charism of the Congregation which is focused on the Poor and the Most abandoned. He motivated the delegates to find new ways of evangelization and to bring hope to our wounded world.
The President of the Commission for Partnership-in-Mission, COREAM, Lady Judith Agu, welcomed all delegates and appreciated the Vice-Province of Nigeria for sponsoring the Conference. She called for synergy among all the Lay groups and emphasized the need for all the Groups to align their activities with the missionary priorities of the Congregation.
The First 2 days of the Conference were dedicated to animating the various forms of Partnership that exist in the Units of COREAM with experience sharing by delegates. There was a lot of knowledge gained from the experiences shared.
Most amazing was the enthusiasm displayed by the Lay Partners in working with the Congregation in Mission.
The Conference which has over 65 delegates from different Units of COREAM, will provide opportunities for integration, strengthening of collaboration between the professed and lay and above all be a period of renewal for the work of the Mission.
Some of the Confreres who are accompanying Lay partners in the mission were recognized for their selfless service and commitment to the growth of Partnership in Mission. 
On Sunday, delegates were taken on a Tour of the Ancient City of Ibadan, in the South Western part of Nigeria.
Lady Judith Agu, LSM
President, Commission for Partnership in Mission, COREAM