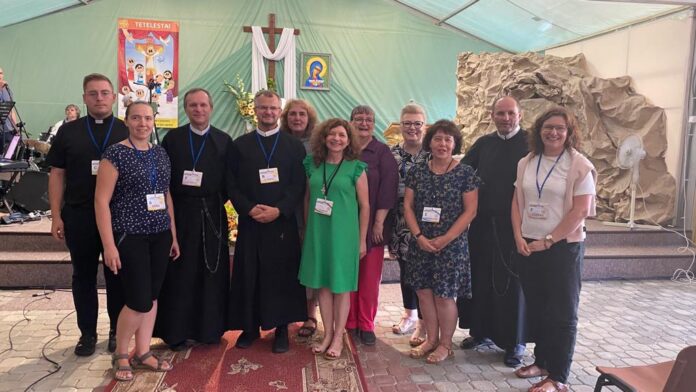 The relevant agreements were signed with SESA Polska during the so-called National Seminar of this community in Stryszawa on August 11-15, 2023, with the School of New Evangelization of St. Alphonsus Liguori, in Wrocław, in the parish of Our Lady of Consolation, and in Grodno, in the parish of the Holy Redeemer, the Community of Missionary Disciples of Bl. Kasper Stanggassinger.
Interestingly many lay communities want to share responsibility with the Redemptorists for the mission of preaching the Gospel – in our parishes in Wrocław and Grodno in Belarus, this took the form of closer cooperation with the international environment of the Schools of the New Evangelization of St. Andrew (SESA, Poland).
SNE St. Alphonsus Liguori in Wrocław is the successor of the SNE, which existed there for several years. Teresa of the Child Jesus, who over 10 years ago has already finished her activity, which years ago brought very abundant fruits. Currently, the Plentiful Redemption Prayer and Evangelization Community (about 25 people), after the necessary time of discernment and preparation, thanks to the support of the Wrocław SNE of St. Peter and Paul, becomes the basis for the functioning of the school of evangelization and can already independently conduct the first of the evangelization courses New Life and is preparing to take over the next ones. The principal of the school is Mrs Anna Dudek.
Registered in Stryszawa in those days, the Community of Missionary Disciples of Bl. Kasper Stanggassinger in Grodno is based on an evangelizing community of the same name of about 90 people, which has been in existence for several years, which has established contact with the Toruń SNE of St. John the Beloved Disciple, and specifically with the lay missionaries of the Holy Redeemer: Mrs. Jolanta Zatorska and Mrs. Joanna Kroplewska. Thanks to their guidance and work, he already organizes courses on his own and is also planning to attend the next ones. The director of the community is Father Andrzej Wróblewski CSsR.
School of Evangelization of St. Andrew (SESA) is the body of schools of evangelization in the world that share a common vision, methodology and formative programme. It bears the name of the apostle Andrew because it expresses the mission: to bring to Jesus "Peters" who will serve, preach and love Jesus more and better than we ourselves, i.e. courageous witnesses of the good news of salvation through Christ the Redeemer, to encourage and maintain unity in the Church as a witness to others.
In the Warsaw Province of the Redemptorists, there is also the SNE of St. Klemens Hofbauer in Elbląg. In addition, the Redemptorists took pastoral care of SNE Sursum Corda in Krakow and are at the beginning of the existence and operation of SNE St. John the Beloved Disciple in Toruń.
Father Mariusz Mazurkiewicz CSsR, Stryszawa